Bangladesh 'persecution' panel reports on 2001 violence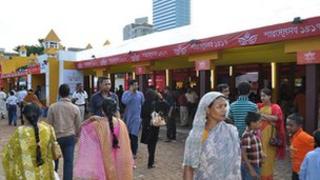 A Bangladeshi judicial commission has found that thousands of supporters of the country's current opposition were involved in the repression of Hindus and other political opponents in 2001.
Thousands of Hindus fled Bangladesh following attacks on them that year.
An investigation conducted over two years blamed the violence on supporters of the ruling alliance at the time, led by the Bangladesh Nationalist Party.
It denies the charges, saying they are politically-motivated.
"This is ridiculous. This report is meaningless. It is highly politically motivated, just to create a further issue between the government and the opposition," senior Bangladesh Nationalist Party (BNP) leader Moudud Ahmed told the BBC.
The three-member commission conducted an extensive investigation into allegations of targeted attacks against the Hindu minority and other political activists soon after the general elections of 2001, which the BNP-led alliance won.
It was set up about two years ago after the Bangladesh High Court ordered an investigation following an appeal from a human rights group.
Hindu leaders said there were a series of attacks against them, including murder, looting and rape which began as the results were announced.
They said Islamist parties and the BNP targeted them because they supported the rival Awami League political party in those elections.
The inquiry concluded that more than 25,000 people - including 25 former ministers and MPs of the BNP-Jamaat-led alliance who are now in the opposition - were connected with the attacks.
The government says that it will pursue the recommendations of the inquiry and this includes filing cases against those accused of crimes in that period, particularly if victims are afraid to come forward and press charges themselves.
The BNP-led alliance lost power in 2006.