Maldives 'Rubbish Island' is 'overwhelmed' by garbage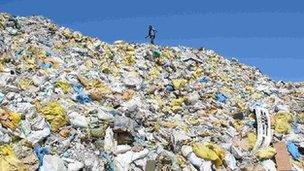 The government of the Maldives has temporarily banned the depositing of rubbish from its hotels onto an island used almost entirely as a garbage dump.
Thilafushi, an artificial island 7km (four miles) from the capital, is nicknamed Rubbish Island.
The accumulation of garbage there has become so acute that it has begun spilling into its lagoon.
An emergency clearing operation has begun to remove "hills of rubbish" mostly collected from luxury hotels.
Rubbish Island is a far cry from the Maldives' famous turquoise waters and white sands.
Those who have been there describe vast piles of rubbish and perpetual smog and smoke.
The routine is for mainly Bangladeshi workers to sift through the trash to look for materials their employers can sell.
Waste from the whole country is taken there to the island be buried, burnt or - for some plastic and metal - recycled.
Much of the rubbish comes from the luxury resorts which, reportedly, do not follow the rules on crushing their waste.
The boats that bring rubbish to Thilafushi have recently started dumping it into the lagoon, many boatmen impatient at having to wait up to seven hours to unload it.
The head of the Maldives' Environment Protection Agency, Ibrahim Naeem, says that delays in dealing with rubbish are caused by technical problems with the unloading of trucks.
He stressed that Thilafushi was not full up and that work was under way to improve waste disposal and ban open incineration.
Mr Naeem said the jetty for rubbish from outlying islands will be closed until the lagoon is cleaned up - although a separate quay for the capital, Male, remains open.
Criticising the waste management on Thilafushi, local environmental campaigner Ahmed Ikram said that years of promises to create a biofuel facility on the island to generate more power had come to nothing.
Mr Ikram's Bluepeace organisation has highlighted the problem of toxins from poisonous waste seeping into the sea.
Thilafushi was reclaimed from a coral reef 20 years ago. There are other industries there, including boat repairers.
Related Internet Links
The BBC is not responsible for the content of external sites.