Vietnamese actor Don Duong dies at 55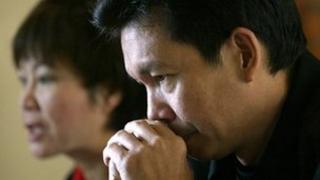 One of Vietnam's best-known actors, Don Duong - once labelled a traitor by his country's armed forces - has died of heart failure and a brain haemorrhage aged 55, relatives say.
Don Duong appeared in Hollywood films such as the Vietnam war epic We Were Soldiers and the refugee drama Green Dragon.
This prompted Vietnam's army newspaper to say he had betrayed his country.
In 2003 he left Vietnam under pressure for the United States.
Don Duong's good looks and daring roles attracted a huge female following in Vietnam.
But other Vietnamese actors criticised his international success.
Official media in the Communist country pilloried him after he appeared with Patrick Swayze in the 2001 refugee drama Green Dragon and with Mel Gibson in the 2002 war epic We Were Soldiers.
'Conscience-seller'
We Were Soldiers depicted the November 1965 battle of Ia Drang - the first major engagement between US troops and the North Vietnamese Army - and Green Dragon told the story of Vietnamese refugees housed in camps in the US in the mid-1970s. Vietnam objected to both.
The Quan Doi Nhan Dan (People's Army) daily newspaper said the actor had betrayed his country.
Calling Duong's actions "unforgivable", the newspaper said the "conscience-seller and traitor must be strictly disciplined".
Film director Duong Minh Dau said the actor had insulted Vietnam by "turning his back on his country and his people".
The criticism prompted Don Duong to leave Vietnam in 2003: he became a US citizen.
In 2011, after previously denying him a visa, the Vietnamese authorities finally gave him permission to make a return trip to Vietnam.
But the visit was delayed and he died before it could take place.
Don Duong's funeral will be held in the United States, his brother-in-law told the BBC, and his ashes will be sent back to Vietnam.