Taiwan profile - Media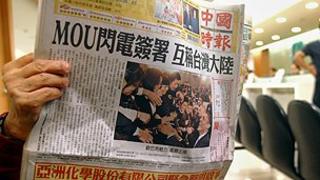 The media environment in Taiwan is among the freest in Asia, and extremely competitive.
There are hundreds of newspapers, all privately-owned and reflecting a wide range of views.
Defamation laws are often used by politicians against their adversaries within a politically polarised media landscape, says Freedom House.
Reporters Without Borders (RSF) says China has been exerting growing economic and political pressure on the Taiwanese media.
The main terrestrial TV networks tend to be politically partisan. Multichannel satellite and cable TV are very popular.
There are more than 170 radio stations, many of them with specific music formats. Phone-in programmes are particularly popular.
There were more than 20 million internet users by 2017 (InternetWorldStats). Facebook and messaging platform Line are leading social media destinations.
A 2017 survey found that around 82% of Taiwanese have a Facebook account. The platform's penetration rate in Taiwan is said by some analysts to be higher than anywhere else in the world.
The press
United Daily News - Chinese-language
China Times - Chinese-language daily
The Liberty Times - Chinese-language daily
Taipei Times - English-language daily
Taiwan News - English-language daily
Television
China Television Company (CTV) - commercial
Chinese Television System (CTS)
Taiwan Television Enterprise (TTV) - commercial
Formosa Television (FTV) - commercial
Public Television Service (PTS) - non-profit public broadcaster
Radio
Broadcasting Corporation of China (BCC) - national and regional networks
CBS-Radio Taiwan International - national broadcaster; also beams services to mainland China and the rest of the world in various languages and Chinese dialects
International Community Radio Taipei (ICRT) - English-language FM station
News agency/internet
Focus Taiwan - English-language service of state-run Central News Agency (CNA)
Central Daily News - Chinese-language, Nationalist (Kuomintang)