Anwar Ibrahim's two-year Malaysia sodomy trial ends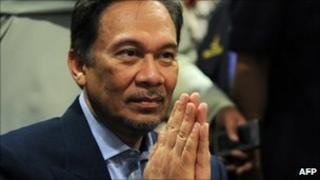 The sodomy trial of Malaysia's opposition figurehead Anwar Ibrahim has ended after two years, with the judge due to deliver a verdict on 9 January.
Mr Anwar, a former deputy prime minister, has repeatedly said the trial is part of a political smear campaign.
But prosecutors have said Mr Anwar has failed to explain DNA evidence linking him to the alleged victim.
Mr Anwar was convicted of sodomy in a separate earlier case, but had the conviction overturned on appeal.
His former political aide, Saiful Bukhari Azlan, says Mr Anwar forced him to have sex in June 2008.
Sodomy is illegal in Malaysia, even among consenting adults. Mr Anwar faces up to 20 years in jail if convicted.
Conspiracy claims
The allegation surfaced months after Mr Anwar led the opposition to win an unprecedented number of seats in a general election.
The government denies Mr Anwar's accusation that it cooked up the charges to get rid of him from the political scene.
He is seen as the only politician capable of united disparate opposition groups to challenge the governing National Front coalition.
The National Front, dominated by the Umno party, has been been in power since independence in 1957.
Mr Anwar was a power figure in Umno who previously served as finance minister and deputy prime minister during the 1990s.
However, he fell out with long-time leader and political mentor Mahathir Mohamed over Malaysia's response to the 1997 financial crisis and proposed reforms to Umno.
In 1998 he was fired from the cabinet, dismissed from Umno and put on trial for sodomy and corruption.
He was jailed, but later had the sodomy charge overturned and was freed in 2004.
The government is expected to call a general election early next year.