Tajikistan profile - Media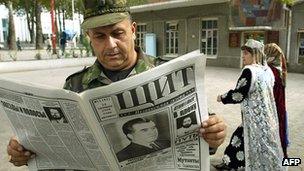 Tajikistan's media environment has become less free in recent years, with the authorities obstructing critical reporting and dictating editorial policy.
"On the pretext of combating terrorism, the government has reduced the media drastically," Reporters Without Borders (RSF) said in 2018.
"Telephone calls from intelligence officers, interrogation sessions, intimidation, and blackmail are now all part of the daily fare of independent journalists," the group said.
Television is the most popular medium. The State Committee for TV and Radio operates national and regional networks.
There are more than a dozen private TV stations. Russian TV is widely-watched. Radio can be the sole source of information for those living in very remote areas.
The newspaper sector comprises government-owned and private titles. Most of these publish weekly and circulation figures are low.
There were 3 million internet users by December 2017 (InternetWorldStats).
The authorities routinely block websites and social media, including Russia's Odnoklassniki, Facebook and YouTube. Internet users turn to proxies to get around this.
Opposition websites operate mainly from abroad.
ImruzNews - private, publishes Monday-Friday
Asia-Plus - private, twice-weekly, in Russian
Jumhuriyat - government-owned, publishes in Tajik three times a week
Khalq Ovozi - government-owned, publishes in Uzbek three times a week
Narodnaya Gazeta - government-owned, publishes in Russian three times a week
Tajik TV- state-run; operates eight national networks including flagship Tojikiston and regional channels
Soghd TV - state-run regional station in north
Khatlon TV - state-run regional station in south
SMT (Independent Television of Tajikistan) - private, Dushanbe
Tajik Radio - state-run, operates Radio Tajikistan, Radio Sado-i Dushanbe (Voice of Dushanbe), culture network Radio Farhang, external service Ovoz-i Tojik
Radio Imruz - private, available in all regions
Radio Vatan - Dushanbe, private
Radio Asia-Plus - Dushanbe, private
Khovar - state-run, English-language pages
Avesta - private, English-language pages