Russian fishing vessel in Antarctic drama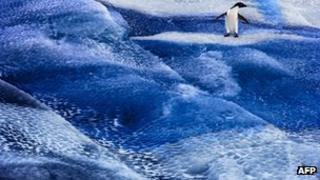 A Russian fishing vessel with 32 people on board has issued a mayday call, after taking on water close to the Antarctic ice shelf.
A number of ships are on their way to assist the vessel, the Sparta, but they are being hampered by ice and the nearest could take days to reach it.
Rescue efforts are being co-ordinated from New Zealand, 3,700km (2,000 nautical miles) to the north-west.
The Sparta is afloat but listing by 13 degrees. Rescuers have radio contact.
Russia's Interfax news agency said the vessel had been blocked in and holed by ice in the south-east of the Ross Sea. Efforts to keep water out of the hold were failing.
Some of the crew, including two scientific observers, have been moved into life rafts while the remainder try to save the vessel, the agency said.
The Sparta issued a distress call at 16:00 GMT on Thursday, which was picked up by Norwegian rescuers and passed on to the Rescue Coordination Centre New Zealand.
Rescue co-ordinator Tracy Brickles said there were no helicopters in the area.
"We have contacted a number of vessels," she said.
"However, the closest ones are hampered by heavy ice, making vessel movement very difficult. The closest vessel which can cut through the ice is several days away."