Video of beheading prompts investigation in Indonesia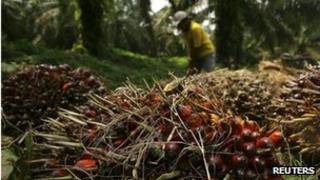 The Indonesian president has ordered an investigation into the alleged killings of farmers by security guards hired to protect a palm oil plantation.
The move came after video footage of an unidentified man being beheaded was shown to a parliamentary committee earlier this week.
Villagers who showed the video to MPs say private security guards have killed at least 30 farmers since 2009.
The violence is said to have taken place in Mesuji in southern Sumatra.
But details of the exact circumstances of the violence remain unclear.
"The president has ordered the security minister and national police chief to form a team to investigate the Mesuji incident," Julian Aldrin Pasha, President Susilo Bambang Yudhoyono's spokesman, told reporters on Thursday.
A police spokesman said they would also study the footage.
"We will study it with a team of experts and consult them to see if any doctoring was done to the footage," government news agency Antara quoted Boy Rafli Amar, head of the police's public information division, as saying.
The violence arose because of a land dispute, media reports say.
Ifdhal Kasim, head of the National Commission of Human Rights, condemned the killings .
"It's not clear who was behind the beheadings or the other killings," he said. "But if there's even a hint that security forces were involved, they should be investigated first," he told the Associated Press.
Local media also carried unconfirmed reports of another video clip showing a headless corpse and mutilated bodies but it is not clear if this clip is related to the violence in Mesuji.