Burma's Aung San Suu Kyi registers NLD party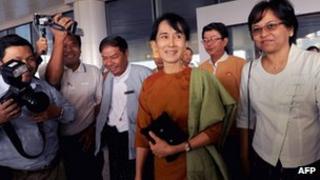 Burma's pro-democracy leader Aung San Suu Kyi has officially registered her National League for Democracy (NLD) party and visited parliament.
During a visit to the capital, Naypyidaw, she also met with the speakers of the two houses.
Her party was declared illegal after it boycotted last year's elections, widely criticised as undemocratic.
She decided to formally rejoin politics after reforms by the nominally civilian administration that took power.
Constituency
Ms Aung San Suu Kyi, along with NLD party leader Tin Oo and other party members, registered the party at the Union Election Commission in the capital.
NLD spokesman Nyan Win said that the party would contest all vacant seats in an upcoming by-election and that Ms Aung San Suu Kyi would soon announce in which constituency she would run, the Associated Press news agency reports.
According to Reuters, Ms Aung San Suu Kyi is considering contesting a seat in parliament in a constituency south of Rangoon - the country's biggest city and commercial hub.
No date has yet been set for the by-election, but Election Commission Chairman Tin Aye said last week that the government would announce it three months ahead of the date.
After registering the party, Ms Aung San Suu Kyi met separately with the speakers of the upper and lower houses - Khin Aung Myint and Shwe Mann respectively - who said they welcomed her visit.
The military-backed but civilian-led government's decision to allow Ms Aung San Suu Kyi's party to register has already won cautious praise from international observers, including the US.
After a recent visit to the country by US Secretary of State Hillary Clinton, the most senior US official to visit in more than 50 years, Mrs Clinton said she wanted to ensure that future elections were "free, fair and credible in the eyes of the people".