Rescuers reach trapped Russian boat Sparta in Antarctic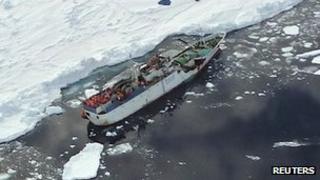 Help has arrived for the Russian fishing vessel stricken in the Antarctic ice with a hole in its hull.
A South Korean icebreaker ship, the Araon, reached the Sparta on 26 December, according to the Rescue Coordination Centre New Zealand (RCCNZ).
Good progress was being made on repairs to the ship, New Zealand officials said.
The Sparta sent out a distress call on 16 December after hitting an iceberg.
It has a crew of 15 Russians, 16 Indonesians and one Ukrainian.
According to the RCCNZ, repair work to be carried out on the Sparta includes transferring fuel and an attempt to weld plating onto the ship to make it seaworthy.
Once this is complete, Araon will escort Sparta out of the Antarctic ice to clear seas.
Other vessels have attempted to rescue the Sparta, but heavy ice prevented them from doing so.
A Hercules aircraft was previously flown over the site but officials said the plane could not pick up the crew.
While waiting for help, the crew threw cargo overboard to lighten the ship and raise the hole in the hull above the water line.
The weather in the area is said to be mild, which is aiding the repair operations.