Profile: Ma Ying-jeou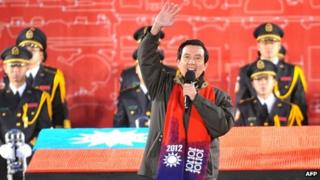 Ma Ying-jeou, chairman of the Kuomintang (KMT), took office as Taiwan's president in May 2008 after winning 58% of the votes in the elections.
He clinched his second term in January 2012, but he polled only 51.6%.
The Hong Kong-born and US-educated lawyer has often been described as ''pro-China'' and ''China friendly''.
His 2008 campaign was built on promises to revitalise the economy and improve relations with China.
As president he has repeatedly stressed his ''three-point China policy'' - "no independence", "no unification" and "no war".
He has also been credited with improved cross-straits ties.
In November 2008 he met Chinese representative Chen Yunlin in a historic five-day visit to Taipei. This was the highest-level cross-straits meeting between the KMT and the Communist Party of China in more than half a century.
Taiwan and China signed a landmark trade deal in 2010. Tourism from the mainland is also bustling, with the introduction of direct flights.
The warming of relations has, however, also sparked insecurity over Taiwan's sovereignty and placed Mr Ma in the hot seat on the issue.
'Risk and opportunity'
In the run-up to the January 2012 elections, Mr Ma's detractors accused him of being ambiguous in his stance on unification with the mainland.
The opposition also blamed Taiwan's slowing economic growth on jobs moving to China.
In rebuttal, he said that better ties with China have led to other countries becoming more amenable to relations and trade with Taiwan.
In an interview with the BBC in June 2011, he pointed out that since he took office, trade with the United States, South East Asia, Europe and Japan had also jumped.
''Mainland China is both a risk and an opportunity,'' he said. ''We must minimise the risk and maximise the opportunity.''
Mr Ma, 61, who has two daughters with his wife of 30 years, former banking lawyer Christine Chow, began his political career in the 1980s.
In 1981, Mr Ma, the only son of five children in his family, served as former President Chiang Ching-kuo's secretary and English translator.
He was the youngest cabinet member at the age of 38, and served as minister for justice and minister without portfolio during the 1990s.
Analysts say he built himself a squeaky-clean reputation during that time.
He first showed potential to run for the top job by beating Chen Shui-bian, who was the island's president before him, in the elections for Taipei mayor in 1998.
In 2005, Mr Ma's place among the island's elite politicians was consolidated when he was chosen as chairman of the KMT.
But in late 2006 his political career - and his incorruptible image - appeared to have fallen apart.
Allegations emerged that he had misappropriated 11.2m Taiwanese dollars ($339,000) of funds while he was mayor of Taipei.
He quit as mayor, and then as party chairman, to fight the charges.
'Lighting candles'
He spent much of early 2007 in court - but despite this, the KMT confirmed him as its presidential candidate.
Eventually, he was cleared of all charges and launched his campaign for the presidency promising to restore the rapid economic growth Taiwan enjoyed during the 1980s and 90s.
Mr Ma, who is said to be a fitness enthusiast and lists music, jogging and swimming as his hobbies, faced a tight race with Democratic Progressive Party (DPP) challenger Tsai Ing-wen.
She polled 45.6% of the vote and, after admitting defeat, resigned as party chairwoman.
A significant endorsement for Mr Ma came in December 2011 when technology tycoon Terry Gou hailed him as an "experienced, outstanding helmsman" who will steer the economy through the "10m, not 1m, waves".
Mr Gou, a self-made billionaire, is one of the most influential businessmen in Taiwan.
During his New Year's address, Mr Ma played to nationalist sentiments, promising to pass the legacy of ''freedom, democracy, righteousness, civilisation and compassion from the past century'' on to the next generation.
In the speech entitled ''Lighting candles for the next generation'', he said that Taiwan was at the cusp of a new dawn as it entered its 101st year.
He also took the opportunity to promise to do better.
''Where we have fallen short, we intend to redouble our efforts, so as to light candles in the minds of the next generation,'' he said.
''Where we have moved too slowly, we shall pick up the pace.''