Anwar begins Malaysia tour before sodomy trial verdict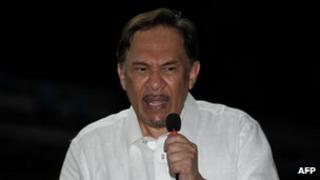 Malaysian opposition leader Anwar Ibrahim has begun an nationwide tour ahead of the verdict in his long-running sodomy trial on 9 January.
The six-day, eight-state tour started on Tuesday night in Johor, a stronghold of the ruling party.
It will end with a rally outside the Kuala Lumpur High Court, before the verdict in the two-year trial.
If found guilty, he could be jailed for up to 20 years, ruling him out of forthcoming elections.
Prime Minister Najib Razak has until March 2013 to call general elections, but it is widely expected that the country will go to the polls this year.
"The tour is not only to declare my innocence but to convince the people that it is time to vote out Prime Minister Najib Razak's government so as to move towards greater democracy and openness," Mr Anwar told AFP.
About 20,000 people are expected to show up for the verdict on 9 January, Shamsul Iskandar, youth wing leader of Mr Anwar's Parti Keadilan Rakyat, told AFP.
Homosexual acts are illegal in Malaysia. Mr Anwar was jailed on a similar charge a decade ago and spent six years in prison before the charge was overturned.
Opposition challenge
The current allegations - which involve his former political aide, 26-year-old Saiful Bukhari Azlan - surfaced after Mr Anwar led the opposition alliance to win an unprecedented one-third of parliamentary seats in the elections in March 2008.
The government has denied Mr Anwar's claims that the charges are part of a political smear campaign against him.
The former deputy prime minister is seen as the only politician capable of united disparate opposition groups to challenge the governing National Front coalition.
The National Front, dominated by the Umno party, has been been in power since independence in 1957.
Mr Anwar was a power figure in Umno who previously served as finance minister and deputy prime minister during the 1990s.
However, he fell out with long-time leader and political mentor Mahathir Mohamed over Malaysia's response to the 1997 financial crisis and proposed reforms to Umno.
In 1998 he was fired from the cabinet, dismissed from Umno and put on trial for sodomy and corruption.