Deadly mushrooms kill two in Australia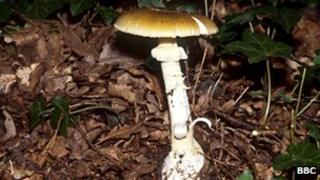 Two people have died after eating poisonous death cap mushrooms - similar to edible straw mushrooms - at a New Year's Eve party in Australia.
The two people were among a group of four who ate the mushrooms at a party in Canberra.
One person has been discharged from hospital but the other three were transferred to Sydney where two later died.
Death cap mushrooms are toxic and can cause liver failure.
A spokesman at Sydney's Royal Prince Alfred Hospital (RPA) confirmed the deaths.
"Two people at RPA have passed away. The third, however, is still receiving treatment," a spokeswoman for the hospital was quoted by the AFP news agency as saying.
The names and ages of the victims have not been confirmed. It remains unclear where the mushrooms at the party came from.
According to the Australian National Botanic Gardens, the death cap mushroom can be found in many Canberra suburbs, usually near oak trees.
It is also common in Melbourne suburbs and in some Victorian country towns.
Eating the mushrooms can cause stomach pains, vomiting, diarrhoea and jaundice. Liver and kidney failure can also occur.