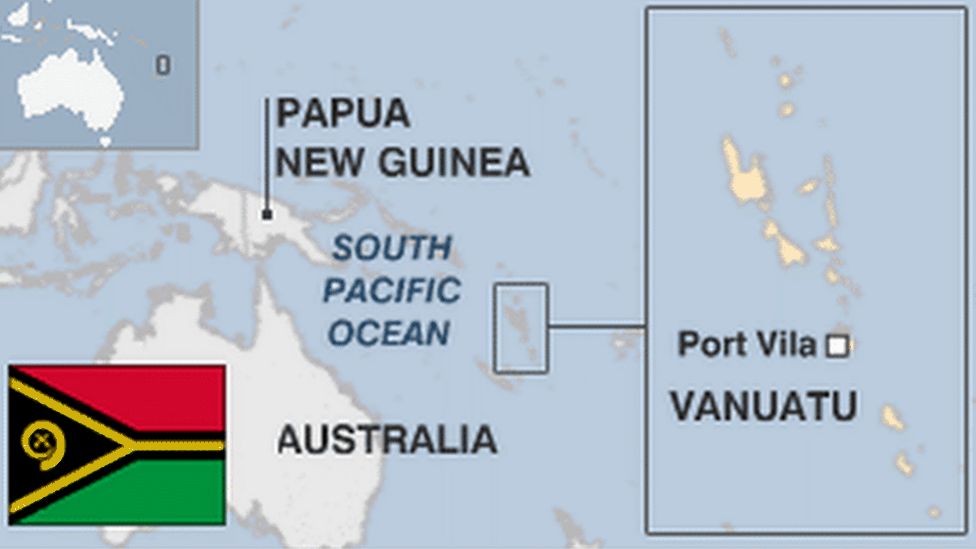 Vanuatu - a string of more than 80 islands once known as the New Hebrides - achieved independence from France and Britain in 1980.
Most of the islands are inhabited; some have active volcanoes.
Vanuatu is mountainous and much of it is covered with tropical rainforests. Like most of the area, it is prone to earthquakes and tidal waves. In 2015 it was hit by Cyclone Pam which caused widespread damage.
Most of the people live in rural areas and practise subsistence agriculture.
Local traditions are strong. Women, for example, generally have lower social standing than men and have fewer educational opportunities.
The island of Pentecost is home to land diving, a precursor to bungee jumping, which is still practised.
REPUBLIC OF VANUATU: FACTS
Capital: Port Vila
Area: 12,189 sq km
Population: 307,800
Languages: Bislama, English, French
Life expectancy: 68 years (men) 72 years (women)
President: Nikenike Vurobaravu
Nikenike Vurobaravu was elected president in July 2022. He succeeded Tallis Obed Moses.
He is a career diplomat and politician who has served in numerous diplomatic and government positions, including as the Vanuatu's first resident high commissioner to Fiji.
The presidency is considered to be a mainly ceremonial post.
Prime Minister: Ishmael Kalsakau
Ishmael Kalsakau was appointed prime minister in November 2022 following a general elections in October 2022 after a no-confidence vote against the then-prime minister Bob Loughman.
The single TV channel on Vanuatu was established with the help of Radio France Overseas (RFO) and broadcasts in French and English.
Some key events in Vanuatu's history:
550BC - First inhabited by Melanesian people.
1606 - Explorer Pedro Fernandez de Quiros leads an expedition to the islands naming them Terra Austrialis del Espiritu Santo.
1768 - Louis Antoine de Bougainville names the islands Les Grandes Cyclades.
1774 - British explorer Captain Cook charts the islands calling them the New Hebrides.
1800s - Thousands of ni-Vanuatu are kidnapped and forced to work on sugar and cotton plantations in Fiji and Queensland, Australia. The practice, known as "blackbirding", continues until the early 20th Century.
1906 - Britain and France make the country a Condominium, under joint administration.
1938 - Emergence of the John Frum (also John Brum or Prum) cargo cult. Believers say goods owned by American and European visitors to the island are really meant for them but are intercepted by the foreigners. They believe that their ancestors will one day return with "cargo" for them. The British outlaw any mention of John Frum.
1956 - John Frum is recognised as a religion by the Anglo-French Condominium.
1963 - The NaGriamel political movement emerges on Espiritu Santo. Followers advocate the return of land to the ni-Vanuatu people and a return to traditional ways.
1971 - NaGriamel, anxious that more than 36% of the New Hebrides is now owned by foreign missionaries, planters and traders, petitions the UN to prevent further land sales to non-indigenous people
1977 - Representatives of the New Hebrides and the governments of Britain and France agree an independence plan for the islands in 1980 following a referendum and elections.
1978 - A measure of self-government introduced.
1980 - Jimmy Stevens, the leader of NaGriamel, declares Espiritu Santo independent of the rest of the New Hebrides renaming it the Independent State of Vemarana. Papua New Guinea troops, backed by the Australians, put down the insurrection.
1980 - New Hebrides attains independence within the Commonwealth
2003 - In response to reforms, the OECD removes Vanuatu from a list of uncooperative tax havens.
2004 - Prime Minister Vohor is ousted in a vote of no confidence after an attempt to forge diplomatic relations with Taiwan.
2005 - Thousands are evacuated as Mount Manaro, an active volcano on Ambae, erupts.
2012 - Diplomatic row with Australia over the arrest of Prime Minister Kilman's secretary on fraud charges. Vanuatu expels an Australian police liaison group in response.
2015 - Cyclone Pam causes widespread devastation. President Lonsdale says climate change is a key factor.
Related Internet Links
The BBC is not responsible for the content of external sites.