Search continuing for Philippine landslide missing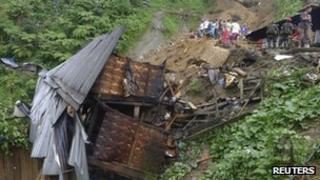 Rescue teams are continuing to search for up to 150 people thought to be missing after a landslide struck a mining village in the southern Philippines.
The landslide occurred on Thursday in Pantukan, Compostela Valley province, on Mindanao island.
At least 25 bodies have been recovered from the rubble.
Sixteen people have also been treated for injuries, according to disaster management officials.
The National Disaster Risk Reduction and Management Council (NDRRMC) said eight of the missing had been named by relatives.
But it said that up to 150 people - likely from other parts of the country - were missing, based on estimates from local officials.
The settlement was home to miners prospecting for gold. Unregulated mining activities have made the mountain area unstable and caused a series of accidents.
A nearby village was also hit by a landslide last year that left 14 people dead.
Police teams and the armed forces are joining in the rescue operations and the area has been designated a state of calamity.
"Based on what we saw, we are expecting a lot of casualties because it happened very early in the morning and there are a lot of shanties and small houses in the side of the landslide path," Lt Col Lyndon Paniza, spokesperson for the local military, told the BBC.
Civil defence chief Benito Ramos said that the landslide was triggered by "continuous rain" over two days.
Heavy rains and the area's remote location have been obstacles to rescue operations.