Profile: James Soong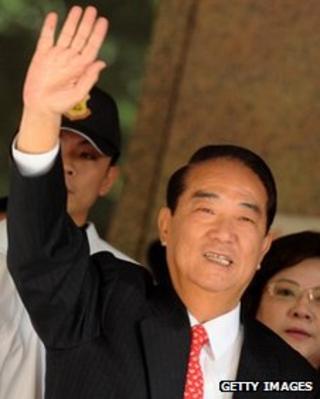 James Soong, a veteran of Taiwanese politics and the third candidate in the upcoming presidential race, could end up either being a spoiler or a playmaker.
The 69-year-old is running against incumbent President Ma Ying-jeou of the Kuomintang and Democratic Progressive Party (DPP) chairwoman Tsai Ing-wen in the island's fifth direct presidential elections.
While Mr Ma and Ms Tsai have been locked in a tight race, Mr Soong has been trailing a distant third.
But some analysts are predicting that history could repeat itself. In the 2000 race, Mr Soong left the Kuomintang to run as an independent.
He split the KMT vote, winning 4.6 million votes out of the 12 million cast. But the election was narrowly won by the DPP's Chen Shui-bian, who took 4.9 million votes.
Mr Chen's win brought 55 years of Kuomintang dominance to an end.
Now Mr Soong is seen - again - as someone who could split the ruling party vote, potentially harming Mr Ma.
But other analysts believed that his influence and that of his People First Party has been overstated.
Political lineage
Born in Hunan in southern China to a military officer, Mr Soong's political lineage can be traced back to the early days of the Kuomintang.
His family fled from the mainland to Taiwan in 1949 when Mao Zedong and the communists took power.
In the early years of his political career, he was secretary to former President Chiang Ching-kuo, son of Chiang Kai-shek.
Mr Soong, who has a masters degree in political science from the University of California, Berkeley, and a doctoral degree from Georgetown University, also served as a government spokesman in the early 1980s.
In the 1990s, he was governor of Taiwan province. He was popular with the public for using Taiwanese dialect instead of Mandarin.
Favouring reunification with China, he said he would pay a ''goodwill'' trip to the mainland if elected.
In an interview with the BBC, Mr Soong said that he believed that reunification was based on constitutional principles. He also criticised both Mr Ma and Ms Tsai's positions on the issue as ''unconstitutional''.
Early this week, his bid for presidency suffered a setback when an official from his camp openly endorsed Mr Ma.
Fu Kun-chi, an official with influence in Hualien county in east Taiwan, said he believed Mr Ma to be the best candidate for presidency, given the difficult economic times ahead.
Mr Soong has told reporters he is running because the current government is not responding to the people's needs for stable jobs and a narrowed wealth gap.