Malaysia seizes illegal haul of African elephant tusks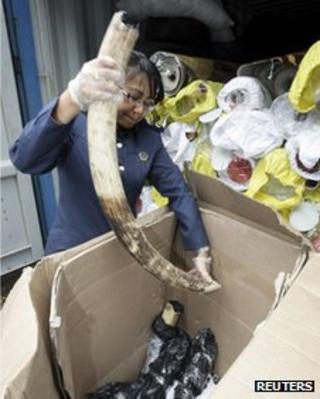 Malaysia customs officials have seized elephant tusks worth 2.4m ringgit ($760,000) from South Africa.
Customs officials say that the tusks were discovered inside television boxes as they were inspecting a container in Port Klang outside Kuala Lumpur.
Wildlife trade group Traffic says 2011 was a "horrible year" for elephants, with 23 tonnes of ivory seized, which it says equates to 2,500 dead animals.
Trade in ivory was banned in 1989 to save elephants from extinction.
Officials said that Malaysia is normally used as a transit point by ivory smugglers, but in this instance Malaysia was listed as the final destination of the container.
The shipment from Cape Town was declared as carrying "polyester and nylon strand matting," but the boxes containing the tusks were found hidden among some tyres in the back of the container, according to officials.
Campaigners say the ivory trade has continued illegally because of huge demand in Asia, where it is used to make decorative objects.
Worldwide more tusks were seized in 2011 than in the previous 22 years.