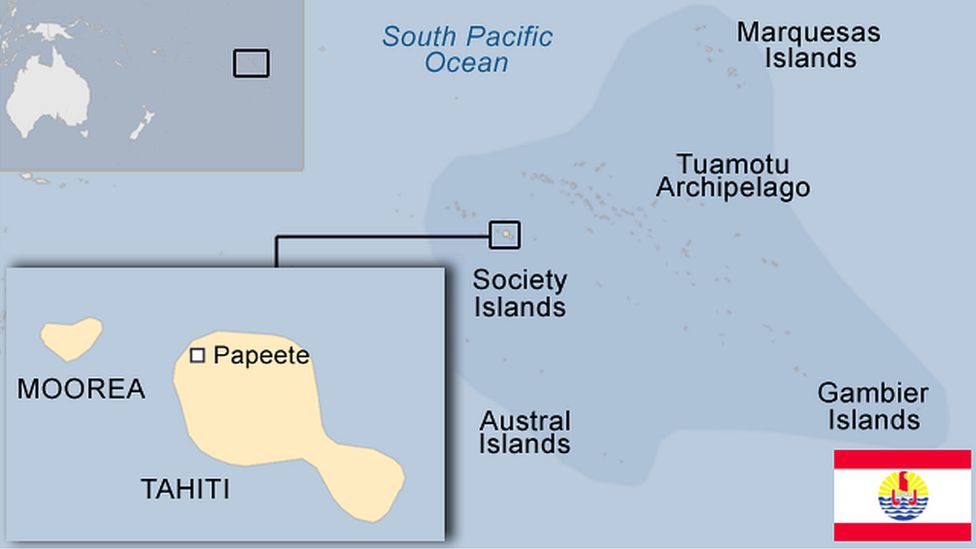 French Polynesia is a sprawling possession of France in the Pacific Ocean, made up of 118 volcanic and coral islands and atolls, including Tahiti.
For France this huge stretch of the Pacific - as big as Western Europe - remains strategically valuable. Atomic testing on the atolls enabled France to keep the nuclear clout it needed to remain one of the world's leading powers.
There are five island groups - the Society Islands, the Tuamotu archipelago, the Gambier Islands, the Marquesas Islands and the Tubuai Islands. Tahiti is the most densely-populated island.
French Polynesia enjoys a high standard of living, but wealth is unevenly distributed and unemployment is high. Tourism is a key part of the economy.
Capital: Papeete
Area: 4,167 sq km
Population: 278,700
Languages: French, Tahitian, Austral, Raivavae, Rapa, Mangareva
Life expectancy: 77 years (men) 83 years (women)
Head of state: President of France, represented by a high commissioner
President of French Polynesia: Moetai Brotherson
Moetai Brotherson, of the pro-independence Tāvini Huiraʻatira, formerly the Front de libération de la Polynésie, was elected as President of French Polynesia in May 2023.
In interviews after his election he stated his support for an independence referendum, but estimated this could take up to 10-15 years. Brotherson has said that the first step will be to define who is eligible to vote in the referendum.
There are two daily newspapers. TV and radio services are provided by the French public overseas broadcaster, the Reseau Outre-Mer, and by private operators.
Multichannel TV is available; channels include French and international stations.
Key dates in the history of French Polynesia:
c. 200BC-300AD - Polynesians explore and settle island chains.
1767 - British explorer Samuel Wallis is first European navigator to visit Tahiti.
1768 - French explorer Louis Antoine de Bougainville visits Tahiti.
1769 - British navigator James Cook, naturalist Joseph Banks, astronomer Charles Green and naturalist Daniel Solander record the transit of Venus from Tahiti during Cook's first voyage around the world.
1797 - Missonaries from the London Missionary Society settle permanently in Polynesia and convert islanders to Protestant Christianity.
1834 - French Catholic missionaries arrive on Tahiti. They are expelled two years later by Queen Pōmare IV.
1842 - France declares Tahiti a protectorate.
1844-47 - Franco-Tahitian War; the war ends when Queen Pōmare agreed to return from exile and rule under the French protectorate.
1880 - France declares Tahiti a colony and moves to annex the other neighbouring islands, in the face of German colonisation in the Pacific.
1887-97 - Leeward Islands War: islanders resist French annexation with civil conflict between pro-French factions and the majority anti-French sectors of the population. The rebellion is violently supressed and the rebels are exiled.
1946 - Polynesians become French citizens and the islands become an overseas territory.
1957 - The islands' name is changed to French Polynesia.
1962 - After Algeria becomes independent, France moves its nuclear testing ground to the Moruroa atoll in the Tuamotu Archipelago.
1970s - Sees the rise of pro-independence moves in the islands.
1977 - French Polynesia is granted partial internal autonomy, which is extended in 1984.
1995 - Widespread protests at the resumption by France of nuclear testing at Fangataufa atoll after a three-year moratorium.
1996 - France's last nuclear test. France announces it will accede to the Comprehensive Test Ban Treaty, and no longer test nuclear weapons
2003 - French Polynesia becomes a full overseas collectivity of France.
2014 - French Polynesia's assembly adopts resolution asking France to pay nearly $1bn in compensation for the environmental damage caused by its nuclear weapons tests.
Related Internet Links
The BBC is not responsible for the content of external sites.