Japan rail chief cleared over 2005 train crash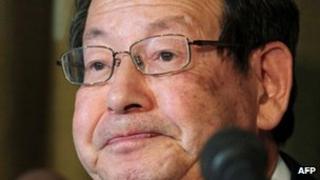 A former rail chief in Japan has been found not guilty of negligence in connection with a train crash that killed 107 people in the western city of Amagasaki in 2005.
Masao Yamazaki was cleared by a court in the city of Kobe.
The accident, which left 550 people injured, was the country's worst rail disaster since 1963.
It happened when a speeding commuter train jumped the tracks and smashed into an apartment building.
Mr Yamazaki, 68, was in charge of safety for the West Japan Railway company in 1996 when it rebuilt railway tracks to sharpen the bend where the accident occurred.
Prosecutors said that Mr Yamazaki failed to take proper safety precautions that could have controlled the train's speed.
But Kobe District Court Judge Makoto Okada said that there were no "foreseeable factors" that should have led Mr Yamazaki to install speed-control devices, according to the AFP news agency.
Mr Yamazaki became president of West Japan Railway after the accident but resigned in 2009 after he was indicted.
Japan's trains are among the most reliable in the world. But the accident in 2005 raised concerns that safety was being compromised for punctuality, reports the BBC's Roland Buerk in Tokyo.