Vietnam's navy unveils first home-made warship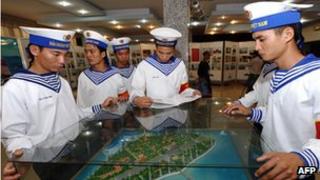 Vietnam's navy has taken delivery of its first locally-made warship, equipped with artillery and missile systems, local media report.
The Hong Ha shipbuilding company started building the model in 2009 and tested the warship last year.
The ship's design was reportedly bought from an unnamed foreign company.
A high-ranking navy official said it would patrol the country's territorial waters, amid rising tensions in the South China Sea.
There are ongoing strains between Vietnam and China over maritime territorial disputes.
Last year a confrontation occurred between a Vietnamese oil and gas survey ship and Chinese patrol boats, sparking anti-China demonstrations in Hanoi.
The new ship is 54m long and has an operational range of more than 2,000 nautical miles.
Vietnam has said that it intends to build more warships in the future. At the moment most of its vessels come from Russia and the former Soviet Union.