One of PNG's two rival PMs declares free health care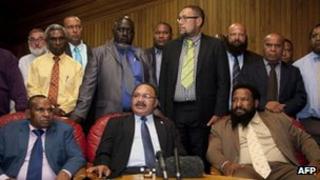 Peter O'Neill, one of two men claiming the prime minister role in Papua New Guinea, has declared public health care will be free, PNG reports say.
This came a day after his rival, Sir Michael Somare, showed up in parliament and was ejected from the sitting.
Mr O'Neill also said 350m Kina ($166m, £108m) will be put into the rehabilitation of the rundown hospitals.
He made the announcement after a tour of the Port Moresby General Hospital.
However, it remains unclear if the directive to provide free health care has been conveyed to all hospitals and clinics in the nation.
The announcement comes amid an ongoing struggle between the two men for the top job.
The government voted in August last year that the post of prime minister was vacant after Sir Michael went abroad for medical treatment in March.
In June, his family had announced he was standing down from politics, a move he later said had been taken without consulting him.
A Supreme Court ruling in December 2011 stated that parliament had acted illegally by electing Mr O'Neill prime minister. The court also ruled that Sir Michael should be ''restored to the office of prime minister''.
Mr O'Neill, who is backed by the civil service and effectively running the country, refused to step down.
On Wednesday, Sir Michael appeared in parliament with supporters and court papers. A chaotic scene ensued as Mr O'Neill's supporters began shouting for him to leave, reports said.
"We will be repeating the same thing, until the Speaker gives us the seats," Sir Michael said.
Papua New Guinea has seen political violence in the past and there are concerns of a fresh outbreak if the political tussle between the two men is not resolved.