France returns 20 mummified Maori heads to New Zealand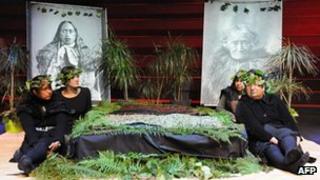 French authorities have returned 20 mummified heads of Maori warriors to New Zealand in the single largest handover to date, according to officials.
The tattooed heads, handed over in a ceremony on Monday at the Quai Branly museum in Paris, followed years of campaigning from New Zealand.
European sailors acquired most of the heads in the 18th and 19th centuries.
They have been held in various French museums as cultural curiosities.
New Zealand first requested the return of the heads in the 1980s, but it was only in 2010 that the passing of a French law made the handover possible.
"We close a terrible chapter of colonial history and we open a new chapter of friendship and mutual respect," French Culture Minister Frederic Mitterand said during the ceremony.
Maori elders held a ceremony to mark the event. "You have been in France so long," Elder Derek Lardelli said. "Today we will be able to bring you home, to Aotearoa," he said, using the Maori name for New Zealand.
The mummified tattooed heads - known as mokomokai - were not displayed during the handover. They will be returned to their respective tribes and given a proper burial.
The Maori traditionally kept tribal heads as war trophies, mummifying them to preserve their spirit.
But they later became much sought after by Western explorers, particularly because of the elaborate tattoos which represented a person's rank.