Kyrgyzstan prison protest: Inmates sew lips together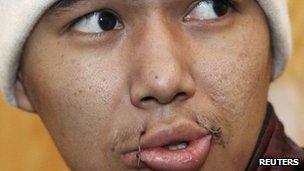 More than 1,300 Kyrgyz prisoners have sewn their lips together as part of an ongoing protest at poor living conditions, say officials.
Nearly 7,000 are already on hunger strike. Their latest move came in response to an official decision to force-feed them, reports said.
The protest follows a riot last week in which at least one person was killed.
"They are demanding that state prison authorities and guards stop beatings," a human rights official said.
"They are worried that if they stop their hunger strike they will be beaten again," Tursunbek Akun said.
He described the situation of the protesting prisoners as "catastrophic".
But authorities say the protest has been orchestrated by criminal gang leaders who oppose new tighter regulations inside prisons, reports the BBC's Central Asia correspondent Rayhan Demytrie.
Hundreds of prisoners have joined the latest protest, which according to reports involves sewing their lips together in such a way that only liquids can be consumed.
One of the prisoners' demands is said to be the lifting of restrictions on their movement, but this demand was dismissed by the head of the penitentiary services, Sheishenbek Baizakov.
Prisoners would no longer "be able to make fools of the guards", he said at a news conference in the capital Bishkek, according to AFP news agency.
"Let them all sew shut their mouths."
Mr Baizakov's resignation has been demanded by prisoners' relatives, who have been picketing the parliament building every day since 16 January - the day of the deadly prison riot said to have triggered the protest.
Kyrgyzstan is a former Soviet nation of 5.5 million which hosts a US air base key to US operations in nearby Afghanistan.
Its jails are notoriously overcrowded and teeming with disease, reports say.