Pervez Musharraf postpones Pakistan return, aide says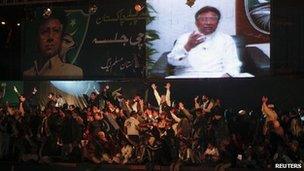 Former President Pervez Musharraf has decided to postpone his return to Pakistan, one of his aides says.
Mr Musharraf had previously vowed to end his self-imposed exile and fly back to Pakistan by the end of this month to revive his political career.
He faces arrest on arrival as he is accused of failing to provide adequate security for former PM Benazir Bhutto ahead of her assassination in 2007.
The former military ruler, who stepped down in 2008, denies wrongdoing.
On Friday Pakistan's Prime Minister Yousuf Raza Gilani repeated that Mr Musharraf would be arrested if he did return.
Mohammad Saif, general secretary of Mr Musharraf's All Pakistan Muslim League, told journalists in Dubai: "Gen Musharraf will return to Pakistan, that's for sure.
"But we are waiting for the tension between the government and the Supreme Court to subside.
He told journalists in Dubai that the government would seek to use Mr Musharraf's return to divert attention from its failures.
Mr Saif gave no date for Mr Musharraf's return.
In early January, Mr Musharraf had told a Karachi rally via video link from Dubai that he would be in Pakistan from 27 to 30 January and planned to participate in parliamentary elections, which are due by 2013.
"I've been threatened and warned but I'm not one of those who gets scared or backs down," he told supporters. "I've fought wars. I'll come to Pakistan."
The former president has described the case against him as "baseless" and politically led.
Correspondents say few people in Pakistan believe the country's former military ruler is the answer to its many problems.
The government is currently locked in a three-way struggle with the judiciary and Pakistan's powerful military establishment.
Relations with the US have hit new lows in recent months, principally over concerns about Pakistan's role in the fight against the Taliban and al-Qaeda.
Gen Musharraf led a military government which ruled Pakistan from 1999.
His supporters were defeated in parliamentary elections in February 2008, and Gen Musharraf resigned in August that year under threat of impeachment.
Pakistan's current president is Asif Ali Zardari, who is the widower of Benazir Bhutto.