PNG's rebel soldiers lay down arms after failed mutiny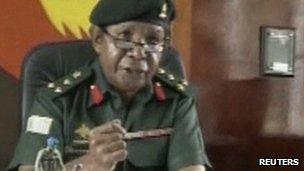 A group of rebel soldiers in Papua New Guinea have laid down their arms after they were promised pardons over a failed mutiny.
The group were involved in last week's takeover of the Taurama Barracks, led by Colonel Yaura Sasa, triggered by a power struggle between top leaders.
Col Sasa was arrested on Saturday and charged with mutiny on Sunday.
Deputy Prime Minister Belden Namah has promised amnesty to the soldiers, Australian media reports said.
"I don't just say, I do," he said to about 200 soldiers at the barracks on Monday.
"I have directed my advisers to prepare the instruments and I will bring them to cabinet today.''
However, he warned, there would be no further amnesties granted should there be another attempt at mutiny.
Mr Namah was appointed by Peter O'Neill, one of the two men claiming the country's prime minister role, as acting defence minister following the failed mutiny.
The incident was the latest conflict in a six-month power tussle between Mr O'Neill and Sir Michael Somare for the top job in the Pacific nation.
On Thursday, Col Sasa declared himself commander after placing the head of defence forces under house arrest, and called for Sir Michael to be reinstated in the top job.
He denied staging a mutiny and said that he had been appointed by Sir Michael's government.
After his arrest, he said that he did not regret his actions and was "carrying out the government's orders".
On Sunday, Sir Michael released a statement reiterating his claim as prime minister, pointing to a court ruling in December 2011, The National newspaper reported.
"If this is to be my last and biggest battle, I will fight for the Constitution, the underlying law that holds the very fabric of our democracy and democratic institutions together,'' he said.
He also said that he would submit ''full contempt proceedings'' against Mr O'Neill and the cabinet to the courts, ABC news reported.
Meanwhile, Mr O'Neill said he remained in charge but it was possible he would call for early elections, due by the middle of the year.
"Sir Michael is not the prime minister and he is no longer a member of parliament and must move on in life," PNG's Post-Courier newspaper quoted him as saying.
The leadership crisis began after Sir Michael left Papua New Guinea in March 2011 to receive treatment for a heart condition and remained away for five months. His family said he was standing down from politics, but he later denied this.
The prime ministerial post was declared vacant in August and Mr O'Neill was elected PM by parliament, replacing acting Prime Minister Sam Abal.
But a Supreme Court ruling in December 2011 stated that parliament had acted illegally by electing Mr O'Neill prime minister. The court also ruled in a 3-2 decision that Sir Michael should be ''restored to the office of prime minister''.
Mr O'Neill, who is backed by the civil service, the police and defence forces and effectively running the country, has refused to step down.