Papua New Guinea mutiny leader Col Sasa bailed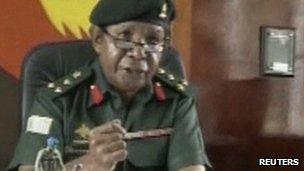 Papua New Guinea's National Court has released the leader of last week's failed mutiny on bail, as wrangling over the PM role continues.
Col Yaura Sasa was arrested and charged with mutiny on Sunday after a brief attempt to seize control of the armed forces.
The mutineers were seeking to reinstall former PM Sir Michael Somare.
Sir Michael and Prime Minister Peter O'Neill have been involved in a six-month tussle over the leadership.
Col Sasa declared himself commander on Thursday after placing the head of defence forces under house arrest. He was later arrested and the group of soldiers who backed him surrendered their weapons on Monday.
The National Court granted Col Sasa a 2,500 kina ($1,100, £735) bail, according to the Post Courier newspaper. He is barred from leaving the capital, Port Moresby.
Sir Michael Somare, meanwhile, has reiterated his claim as prime minister, pointing to a court ruling in December 2011.
"I am prepared to go to jail for what I know is the right thing," he was quoted by the National Newspaper as saying.
He has also filed contempt proceedings against Mr O'Neill for failing to recognise the December court ruling, news agency ABC reports. Mr O'Neill says he will challenge the contempt charges.
The leadership crisis began after Sir Michael left Papua New Guinea in March 2011 to receive treatment for a heart condition and remained away for five months.
The prime ministerial post was declared vacant in August and Mr O'Neill was elected by parliament, replacing acting Prime Minister Sam Abal.
But a Supreme Court ruling in December 2011 stated that parliament had acted illegally by electing Mr O'Neill prime minister. The court also ruled in a 3-2 decision that Sir Michael should be ''restored to the office of prime minister''.
Mr O'Neill, who is backed by the civil service, the police and defence forces and effectively running the country, has refused to step down.