Philippine military 'kills three wanted militants'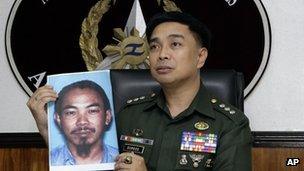 The Philippine military says it has killed three senior militants from al-Qaeda-linked groups in a raid in the south of the country.
The air raid took place on Thursday in an area known as a militant stronghold.
Officials said two Jemaah Islamiah (JI) leaders and one Abu Sayyaf leader were among a total of 15 people killed.
Malaysian Zulkifli bin Hir, or Marwan, who was on the US FBI's most wanted list with a $5m (£3.2m) reward offered for his capture, was reported killed.
According to the military, the militants were killed in the town of Parang on Jolo island, Sulu province, in the Mindanao region.
Regional military commander Maj Gen Noel Coballes told Agence France Presse news agency that troops on the ground had confirmed the deaths.
Marwan, a top JI leader, is said to have been behind a series of bomb attacks in the southern Philippines since 2006.
The military identified the other two senior militants as Jemaah Islamiyah leader Abdullah Ali, aliases Muhamda Ali or Mauwiya, and an Abu Sayyaf leader, Gumbahali Jumdail alias Doc Abu.
According to the FBI, Marwan is "an engineer trained in the US" and has conducted bomb-making activities for militant groups, especially Abu Sayyaf.
Muawiya, also a top JI leader, is said to be a Singaporean national who came to the Philippines after the Bali bombings in 2002. A reward of $50,000 had been offered for his capture.
JI has links to al-Qaeda and has a long track record of attacks in Indonesia. It is believed to have been behind the Bali bombings of 2002.
Doc Abu, a Filipino, is said to be a regional Abu Sayyaf leader wanted for multiple kidnappings. Abu Sayyaf is one of the most radical of the Islamic separatist groups in the southern Philippines.
A military spokesman told the BBC that the operation was ordered after reports that a group of militants had arrived in the area on 30 December.
The islands in the south-west Philippines are known to harbour various militant groups - some of which also operate as kidnap-for-ransom gangs, reports the BBC's Kate McGeown.
Just this week, Abu Sayyaf is thought to have kidnapped two European tourists from the area.