Pig's head outside Malaysia mosque causes outrage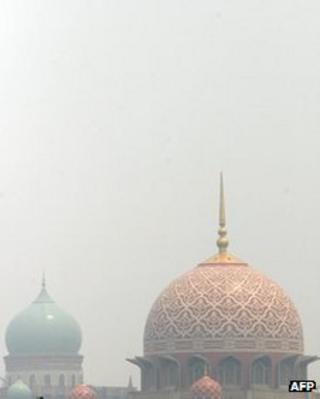 A pig's head has been found outside a mosque in the Malaysian capital, Kuala Lumpur - the third such incident in the country in a month, police say.
The severed head is especially offensive to Muslims, who consider pigs and consumption of pork to be unclean.
It is not known who put the pig's heads outside the mosque, but there has been rising tension in recent months between Christians and majority Muslims.
Muslim groups have accused Christians of converting their followers.
Although previous incidents happened in different parts of the country, non-Muslim politicians believe they are linked - with the aim of deliberately causing tension with Malaysia's Muslim majority.
The BBC's Jennifer Pak in Kuala Lumpur says that all of the pig heads were left at the front entrance of the mosques, ensuring that Muslims would see them when they arrived for morning prayers.
MP Tian Chua said that the pig's head in the latest incident was wrapped in a black plastic bag and left outside the mosque on Wednesday night. Its contents were only discovered on Thursday morning.
Police have taken the head away and are investigating the incident.
Mr Chua said he believed the act to be a "politically motivated provocation" intended to inflame tensions among Muslims and non-Muslims. He urged all parties to remain calm.
"We shouldn't fall into the trap and, of course, everyone should condemn such an irresponsible act," he told The Malaysian Insider newspaper.
Last month four people were arrested by police in connection with nine pig heads found outside a mosque in southern Malaysia.
Dozens of churches and Muslim prayer halls were attacked in 2010 in an ongoing dispute between the Muslim majority and Christians over the use of the word Allah.
Since then, Christians have been accused of targeting Muslims to convert to Christianity, which is illegal in many Malaysian states.