Militants kill Pakistani soldiers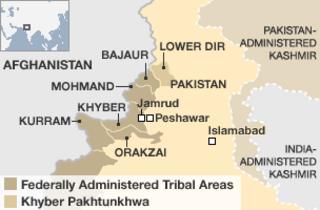 Militants have killed at least seven Pakistani soldiers in an attack on a checkpoint in the volatile north-west of the country, officials say.
The attack happened around midnight in Kurram tribal region. At least 18 militants were also killed in the ensuing battle, officials say.
It is the third such attack in Kurram in recent weeks.
On Tuesday eight soldiers were killed when another checkpoint was attacked. The army said 20 militants also died.
The army is conducting several anti-militant operations in the tribal areas close to the Afghan border.
Pakistan launched an offensive against the militants in Kurram in July.
Correspondents say that while the army has fought Pakistani Taliban militants across many of the tribal regions, it has so far not bowed to intense American pressure to take action against the al-Qaeda-linked Haqqani network in its stronghold of North Waziristan.
It is very difficult to independently verify accounts from the region as journalists cannot operate in the area.