Philippine troops seek body of 'dead' militant Marwan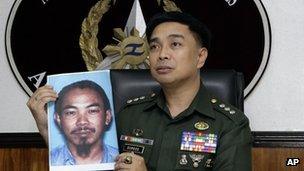 Troops are still searching for the body of a wanted militant reported killed in the southern Philippines, a military spokesman says.
The military said on Thursday that it had killed senior Jemaah Islamiah (JI) leader Zulkifli bin Hir, known as Marwan, in an air strike.
But regional military spokesman Lt Col Randolph Cabangbang said troops on the ground had yet to find his body.
Marwan is on the US Federal Bureau of Investigation (FBI) most-wanted list.
The air strike took place in the town of Parang in Sulu province. Marwan was said to be among 15 militants killed. They included another senior JI leader and a regional commander of the Abu Sayyaf militant group, the army said.
But on Friday troops said they were still combing the area on the island of Jolo for the bodies.
"We are still searching. Our troops are still there," Lt Col Cabangbang said.
Regional military commander Maj Gen Noel Coballes had said on Thursday that troops on the ground had confirmed Marwan's death.
Marwan is said to have been behind a series of bomb attacks in the southern Philippines since 2006. The US has offered a $5m (£3.2m) reward for his capture.
The other JI leader was identified as Abdullah Ali, aliases Muhamda Ali or Mauwiya, a Singaporean national.
JI has links to al-Qaeda and has a long track record of attacks in Indonesia. It is believed to have been behind the Bali bombings of 2002.
The Abu Sayyaf leader was identified as Gumbahali Jumdail alias Doc Abu, said to be a regional leader wanted for multiple kidnappings.
Abu Sayyaf is one of the most radical of the Islamic separatist groups in the southern Philippines.
The BBC's Philippines correspondent Kate McGeown says that mistakes like this have happened before.
In 2000, then-president Gloria Arroyo announced that troops had killed Khadaffy Janjalani, the leader of Abu Sayyaf. But he later appeared on television to show that he was alive. He was eventually killed in 2006.
The Philippine military also pronounced other known militants, like JI's Dulmatin and Umar Patek, dead prematurely. Dulmatin was eventually killed in Indonesia, while Umar Patek was arrested in Pakistan last year.