Pakistan PM in Qatar 'to discuss Taliban peace effort'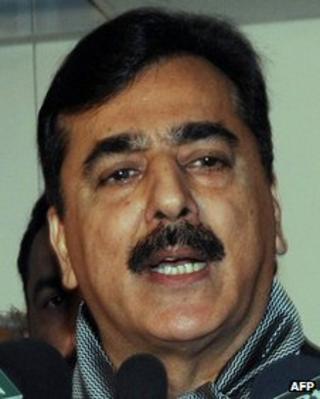 Pakistani PM Yousuf Raza Gilani is travelling to Qatar where officials indicate he will discuss peace efforts in Afghanistan.
The government has described the official agenda of his three-day visit as an opportunity to boost trade ties.
But officials have also confirmed that US efforts to establish a dialogue with the Taliban, hosted by the Qataris, will be discussed.
Analysts say his trip raises questions about Pakistan's role in future talks.
The BBC's Jill McGivering says that it is not clear what position Mr Gilani will take. He says his country wants a stable Afghanistan and will support any Afghan-led peace process.
"He will meet among others the Emir of Qatar, Sheikh Hamad bin Khalifa al-Thani and Prime Minister Sheikh Hamad bin Jassem bin Jabr al-Thani," foreign ministry spokesman Abdul Basit is quoted as saying by the AFP news agency.
He added that the visit would seek to open up opportunities for co-operation between the countries.
But analysts say the issue of talks with the Taliban will also be considered important.
Our correspondent says that there is a sense that Pakistan, like the Afghan government, has felt excluded from the talks process - and takes that exclusion as a diplomatic snub.
The Taliban confirmed last month that they planned to set up a political office in Qatar ahead of possible talks with the US.
Pakistan has stressed recently in public that it is now being briefed by the Americans on those talks.
The Qatar talks are now being challenged by President Karzai's initiative to instigate separate direct talks involving the Taliban and the Afghan government, hosted by the Saudis.
The Taliban's support for the rival process is far from certain and it is not clear which set of talks, if any, will be backed by Pakistan.
Given its influence with the Taliban, Islamabad's choice may be crucial. The difficulty for the US, our correspondent says, is that Pakistan's proximity to the Taliban is what makes it both part of a possible solution and also part of the problem.
Pakistan has been accused in the past of playing a double game when it comes to the Taliban. If both the Americans and the Afghan government are now eager for its help, its loyalties could once again be tested.
Officials say that Mr Gilani will meet the Emir of Qatar, Sheikh Hamad Bin Khalifa Al-Thani and Prime Minister Sheikh Hamad Bin Jassim Bin Jabr Al-Thani.