Maldives president resigns: Your views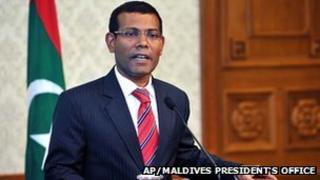 Maldives President Mohamed Nasheed has resigned after weeks of unrest.
There have been demonstrations and a mutiny by some police officers who took control of the state broadcaster in the capital, Male.
Tensions escalated after the army arrested a senior judge in January, prompting street protests.
BBC News website readers in Male have been sharing their views on recent developments.
Ali
I've been out on the streets last night as a spectator - it was the 22nd night of protests.
People supporting the ruling and opposition parties gathered on a well-known beach area in Male.
The police force was controlling the gathering before the military showed up and took over the handling of the protesters.
I fear that Maldivians have made a big mistake by forcing Nasheed to resign - he was a good president and is a good man.
Nasheed brought more to the Maldives in his three years than former president Maumoon Abdul Gayoom did in his 30 years of power.
Nasheed didn't want any bloodshed and it was brave of him to step down
All of the political leaders are concerned only about getting power by becoming president.
I think when the vice-president takes over, everything will be fine - no protests or violence.
Even now Male has become quite peaceful - people are riding around on their motorbikes.
I think an election may be announced within the next 30 days. But if Gayoom comes back we will go to hell!
People will soon realise that Nasheed is the hero they were looking for all along.
Afsha Rasheed
I was at the protest last night which was peaceful until the ruling party's MDP activists came on the scene.
They came with weapons which caused clashes and injuries to many people.
The police took a stand against what they called unlawful commands as they were asked to leave the protest by the army who took control of the area.
When a large group of people tried to gather in Republic Square the army tried to stop them by using tear gas and firing rubber bullets.
After this much of the army joined the police as they did not want to obey orders to fire live bullets into the crowd.
I voted for Nasheed but I couldn't accept it when he said he would not obey the constitution and that he thought there was no judiciary or constitution.
Also in a leaked tape where he was believed to be addressing army loyal to him, he said that there will not be an election in 2013.
After Nasheed's resignation, people thought the country will be under military rule.
But now the vice-president has been sworn in to become president. Things seem to be more calm now.
Azha Zameer
Today is a sad day for all Maldivians and I am ashamed to be a Maldivian.
Some Maldivians have gone to the streets and power has gone right back in the hands of the former dictator Maumoon Abdul Gayyoom and his cronies.
We have never seen a leader like President Mohamed Nasheed.
I salute him for his bravery and for stepping down even when he also could have chosen to rule the country with an iron fist like the former dictator Maumoon has done.
Nasheed was the first democratically elected leader of the Maldives.
He reformed so much of the country and it is sad that the minority didn't appreciate him.
In the past, the poor had to write letters to the rich, begging them to help pay for their medical bills. But since Nasheed came to power, medical services are free of charge.
He also created better housing as well better transport as there was no public transport and it was difficult to get to other islands.
The future is dark and very uncertain.
The vice-president who is now president isn't even a member of Nasheed's political party.
All the hard work has now been flushed down the drain, and now we have to start all over again.
Moosa Faphuhi
I don't support either the ruling party or the opposition parties - I am a normal citizen of the country, but I'm happy that Nasheed is no longer president.
I think the majority of the people in the Maldives wanted him to go.
Nasheed did not respect the people as he violated the country's constitution which I very much disagreed with.
He arrested a senior judge just because he opposed some of Nasheed's views.
I went to three protests near the presidential square but security forces always stopped them - after that we were not able to protest in the area.
But when I heard there were clashes at recent protests, I didn't want to go to any more of them.
Nasheed promised that this would be a good time for the Maldives but he was mostly operating outside the constitution.
This change was brought on by the people, not the military.
I'm not happy that the vice-president has taken over but it is OK for the time being until elections are held next year.
Interviews by Andrée Massiah