Pakistan factory collapse rescue operation continues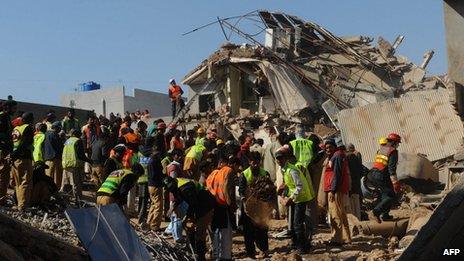 Rescue workers are still searching for survivors in the debris of a factory that collapsed after a gas explosion in the Pakistani city of Lahore.
At least 17 bodies, including 10 women and three children, were recovered by search teams who worked overnight.
Rescuers say that their work has been hampered by difficulties in getting heavy equipment to the factory site, which is surrounded by narrow streets.
Officials fear more people are trapped but it is unclear how many.
About 13 survivors have been pulled from the rubble.
Factory records show that 60 people were meant to be at work but correspondents say that people were arriving at work at the time of the collapse so estimates as to how many were actually inside range from 30-60.
The three-storey factory was illegally manufacturing veterinary medicine. The blast is believed to have been caused by an exploding boiler.
Workers say they are gradually and cautiously proceeding with the rescue operation so as not to harm any potential survivors trapped in the basement area or any other cavities.
They say it will take them at least until Wednesday morning to clear the entire building.
Meanwhile, police have registered a criminal case against the owners of the building, who have apparently fled.
Officials said the 25-year-old factory, in a residential area of the city, had not been properly registered so was operating illegally.
Local trade union leader Farooq Tariq told the BBC on Monday that some of the workers were children - below the legal working age of 16 - employed to pack medicines.
Rescue teams brought in floodlights on Monday to carry on the operation as night fell.