New Zealand quake: CTV building 'was sub-standard'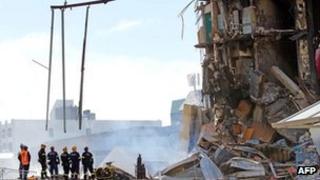 A building that collapsed during last year's Christchurch earthquake was sub-standard, an official report has found.
The six-story Canterbury Television (CTV) building did not meet requirements when it was built in 1986, said a report by the Department of Building and Housing.
Its collapse killed 115 people - almost two-thirds of those who died.
The death toll for the magnitude 6.3 quake on 22 February 2011 has also been revised from 181 to 185.
The coroner's office in New Zealand's second-largest city said more deaths had been recorded following reviews.
The building report found that load-bearing concrete columns of the CTV building were not sufficiently reinforced with steel. The department also said that the building fell well short of current minimum standards.
Earthquake Recovery Minister Gerry Brownlee said the report raised "serious questions about the structural integrity of the building".
"We note the report has now been passed onto the New Zealand Police to look into further," he said.
The head of the engineering firm that designed the building called the report ''technically inadequate''.
"Some of the assumptions made in the reports are highly questionable," Alan Reay Consultants Ltd (ARCL) said in a statement.
A memorial service will be held in Christchurch to mark the first anniversary of the disaster.