Unease grows over Maldives power struggle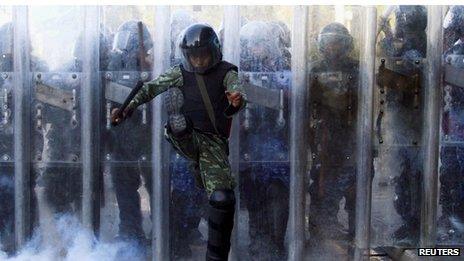 The dramatic resignation of President Mohamed Nasheed amid claims of a coup has prompted growing concern that the Maldives' young democracy is in danger, reports the BBC's Andrew North in Male.
It seemed like a telling smile. The new president of this country of 1,000 paradise islands walked in for his first news conference looking like everything was going to plan.
But appearances take time to understand - and rumour, suspicion and competing narratives swirl about this tiny island capital amid the sting of tear gas.
Was it a coup or not? And as always, the question, where does the money trail lead?
And rumours travel fast here - you can walk the island in less than half an hour.
But Male is a bubble too, with the Indian Ocean on all sides.
Tourists are still arriving at the airport - on another island - before being whisked away to yet another protected isle, with no sign so far of the disturbances reaching there.
But envoys from the US and the UN are now flying in, too, as concern spreads that the Maldives' young democracy may be sinking like its islands.
"Do I look like someone who'd bring about a coup d'etat?" new President Mohammed Waheed Hassan replied indignantly to a reporter's question. "Huh. I think that's unfair."
It was his former boss, Mohammed Nasheed, who caused the crisis, he said, by "unlawfully" detaining a senior judge.
President Hassan, a former UN official, said he was the one upholding the constitution - and protecting democracy.
This is where it gets even more complicated.
Mr Nasheed's supporters says the judge was arrested because he was stalling an investigation into how the president for 30 years, Maumoon Abdul Gayoom, had amassed his wealth.
And Mr Nasheed - the Maldives first democratically-chosen leader - insists he was pushed from power at gunpoint.
On Tuesday, he had given a slightly different version of events - saying he was stepping down to try to prevent violence.
When he told a large rally of his supporters that he had been forced out, new violence on the streets seemed inevitable.
What really happened on Tuesday will now be a key part of deciding what happens next.
Many suspect the former president of playing some hand in the week's events. He is currently abroad and denies this. But asked by the BBC by phone if he wanted to return to power, he said he was keeping his "options open".
And some accuse the new president of in effect being a puppet.
Diplomats are making appeals for calm on all sides, calling for the rule of law to be respected.
There has been surprise here at how quickly the outside world appeared to accept what had happened.
Neighbouring India - which sent troops to stop the last coup attempt in 1988 - was quick to reach out to the new president.
An initial statement from the UK, the former colonial power, seemed to accept Mohammed Nasheed had simply resigned.
Its first concern is the safety of some 2,500 British tourists here, along with a handful of permanent residents.
But there are now signs of some back-pedalling going on, after the violence that erupted in Male on Wednesday.
Britain's high commissioner in Sri Lanka is already here. US envoy Robert Blake is due here on Saturday, with American diplomats on the ground "fact-gathering" beforehand.
Warrants for the arrest of the former president and his defence minister do not bode well for calm here.
President Hassan later told the BBC he's ordered the arrest warrant to be suspended - as long as his former boss "co-operates", a sign he too is listening to appeals for calm.
Heavy rain helped keep the streets quieter on Thursday. But there are fears Friday prayers could create a new flashpoint.