Maldives crisis: New leader rejects snap election calls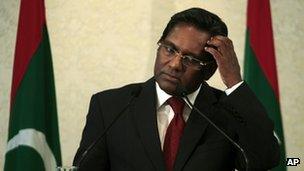 New Maldives President Mohammed Waheed Hassan Manik has rejected calls by his predecessor for snap elections as a way of resolving a political stand-off.
Mr Waheed told the BBC that the current environment was not conducive to holding "free and fair" elections.
Meanwhile, the US said it would work with the new government but was seeking clarification on the transfer of power.
Former leader Mohamed Nasheed earlier led a rally in the capital Male to protest.
Mr Waheed has denied the claim, insisting that Mr Nasheed stepped down voluntarily.
Mr Nasheed's resignation on Tuesday was followed by demonstrations and clashes in the Indian Ocean nation.
Meanwhile, UN Assistant Secretary General Oscar Fernandez-Taranco is holding talks with both sides to try to find a way out of the impasse.
"This is not an environment in which you can have free and fair election," President Waheed told BBC Sinhala's Saroj Pathirana on Friday.
"The country is divided on political lines, the former president is still agitating and you know he is free, he can move around wherever he wants to."
Mr Waheed said the election campaign had already started for polls scheduled polls for the end of 2013.
"I think what is really important now is to calm down, make things settle down. And I have to demonstrate that we uphold the constitution and the rule of law."
The new leader also said Mr Nasheed had acted "like a dictator" and was now trying to stage a "show" for international media.
Earlier on Friday, Mr Nasheed - who stepped down on Tuesday - got a rapturous reception from his supporters as he emerged from Male's main mosque after prayers, the BBC's Andrew North in the capital reports.
The supporters surged behind Mr Nasheed, as he led a rally through the narrow streets of the city, ending at his home, our correspondent says.
There he reiterated that he was no longer calling for his reinstatement as president, but wanted snap elections to resolve the stand-off.
In a BBC interview, he said the new president should hand over power to the speaker of parliament in order to hold elections within two months.
And he repeated his claim that he had been ousted in a coup and was threatened at gunpoint.
"About 18 or so military personnel came up to me and said that if I didn't resign in one hour they would resort to using arms," Mr Nasheed said.
"They gave me a piece of paper and told me to write it - I wrote it and signed it, and they took the letter."
Meanwhile, US State Department spokeswoman Victoria Nuland corrected the US's position after saying on Thursday that the US recognised the new government.
"I got myself in a place yesterday that was not borne out by the facts," she told a news briefing in Washington.
"We will work with the government of the Maldives, but believe that the circumstances surrounding the transfer of power need to be clarified," she said.
"And we also suggest that all parties agree to an independent mechanism to do that."
Robert Blake, the US assistant secretary of state for South Asian affairs, is arriving in Male on Saturday for talks.
At Friday's rally, Mr Nasheed also complained of the arrest of several members of his party on the island of Addu - about an hour's flight from Male.
Large numbers of soldiers and police with batons, helmets and tear gas canisters were deployed near the mosque in the capital.
So far, there has been no sign of the new government trying to carry out a warrant it says it has issued for Mr Nasheed's arrest.
Mr Nasheed quit on Tuesday after police and soldiers joined opposition-led protests in Male.
On Wednesday, several thousand MDP supporters, led by Mr Nasheed, marched through the capital in protest at his ousting. Riot police fired tear gas and broke up the demonstration - dozens of opposition supporters were arrested and several badly beaten.
Newly appointed Home Minister Mohamed Jameel has blamed Wednesday's violence on Mr Nasheed's party, and warned of filing terrorism charges.