Maldives crisis: Commonwealth ministers to meet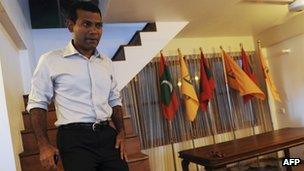 Commonwealth officials say they will hold urgent talks on a stand-off in the Maldives between President Mohammed Waheed Hassan and his predecessor.
A Commonwealth ministerial watchdog will convene within 24 hours. It has the power to suspend member states.
Former President Mohamed Nasheed says he was forced out in a coup on Tuesday. Mr Waheed denies the claim.
A senior US diplomat backed the new authorities, saying the nation was not ready for snap elections.
"The police, election commission, and judiciary are not sufficiently prepared to ensure free and fair elections," US Assistant Secretary of State Robert Blake said after talks in the Maldives capital, Male.
He also urged all the parties to work together to resolve the political crisis..
Mr Nasheed earlier demanded snap elections - but Mr Waheed swiftly ruled out such a move.
Commonwealth officials said Secretary-General Kamalesh Sharma had called for a teleconference of the Commonwealth Ministerial Action Group, a group of nine foreign ministers from the 54-member bloc.
They will hold a teleconference "to review the circumstances pertaining to the transfer of power", Akbar Khan, who heads the bloc's delegation in the Maldives, told Reuters news agency.
The CMAG has the power to suspend member states if they violate democracy, voting against Fiji in 2006, and Pakistan in 1999 and 2007.
Mr Nasheed's resignation on Tuesday was followed by demonstrations and clashes in the Indian Ocean nation.
Meanwhile, UN Assistant Secretary General Oscar Fernandez-Taranco has been holding talks with both sides to try to find a way out of the impasse.
Mr Waheed said on Friday that the election campaign had already started for scheduled polls for the end of 2013.
The new leader also said Mr Nasheed had acted "like a dictator" and was now trying to stage a "show" for international media.
Mr Nasheed says he is no longer calling for his reinstatement as president, but wants snap elections to resolve the stand-off.
So far, there has been no sign of the new government trying to carry out a warrant it says it has issued for Mr Nasheed's arrest.
Mr Nasheed quit on Tuesday after police and soldiers joined opposition-led protests in Male.