Waking up to the war in Balochistan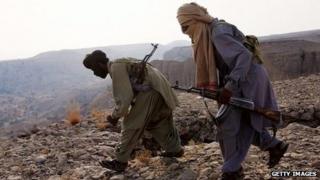 The nationalist insurgency in the Pakistani province of Balochistan does not often command international attention. But recent comments by US politicians suggest there could be a new appetite for addressing the conflict. BBC Urdu's Amber Shamsi reports on how Baloch bloggers are leading the charge.
Balochistan's long-running insurgency is all about greater political autonomy and the conflict has been brutal, with human rights groups accusing security forces of regularly detaining and torturing political activists.
Although the government has denied such accusations, activists insist their movements are closely watched and curtailed.
Malik Siraj Akbar is one victim of the tough stance taken by the Pakistani government.
"I became the bureau chief of a national daily at the age of 22," he says. "I thought I had a bright future in Balochistan. Balochistan was my story. But I've lost my story."
Mr Akbar is a journalist and blogger who was forced to seek political asylum in the US after he received threats from the government and intelligence agencies. His e-paper, Baloch Hal, was one of those that was shut down and the reason - he believes - that he was targeted. He has now had to substitute the dusty, conflict-ridden provincial capital of Quetta for a quiet suburb of Washington DC.
He admits that his enforced emigration has meant that his online newspaper has run out of steam: "I am not able to run the paper like I wanted to. We wanted to break news from Balochistan, but we can't any more. My reporters in the interior are constantly under threat."
For the last eight years the insurgency has gone largely unnoticed by Pakistan's mainstream media and by foreign news organisations.
It is a murky conflict in which underground nationalist groups and Pakistan's paramilitary and intelligence agencies are the main players. The insurgency encountered setbacks in 2006 during the presidency of Pervez Musharraf. Baloch nationalist leader Akbar Bugti was killed at that time during an army operation.
Since then the Pakistan Telecommunication Authority (PTA) appears to have been determined to block sites in Balochistan which are critical of the Pakistani state.
Since 2006, Pakistan's telecommunication authority has blocked nearly 4,000 websites. Most of them are pornographic or contain blasphemous material, but a lot are those deemed "anti-state". Many of these are websites, blogs and YouTube videos from the province of Balochistan.
Extra-judicial killings
Talking to the BBC, a PTA official said it was the government and not the telecoms authority that censors web content in Pakistan.
"An inter-ministerial committee scrutinises websites and decides which are to be banned and which are not. The PTA only attends these meetings as an observer." According to the official, the intelligence agencies also participate in these meetings.
The PTA is reluctant to release the numbers and types of websites that have been blocked, and to date there has been no research into the exact number of Baloch websites on the forbidden list.
Given that many keep changing URLs and names, putting a finger on numbers is made all the harder. But Mr Akbar estimates that there must be hundreds.
"All over the world, the freedom to express oneself is best done through social media websites and blogs. We don't [officially] have that right in Pakistan," he says.
According to the Bytes for All organisation working to promote internet freedom in Pakistan, disappearances, illegal torture and extra-judicial killings of journalists, lawyers, students and political activists have increased rapidly throughout Balochistan in recent months.
It says that these developments received an "almost total blackout" by the Pakistani media.
But recently, Baloch nationalist groups have tried to fight back against media censorship. They asked cable operators to block the transmission of mainstream Urdu news channels throughout the province in protest over what they say is their refusal to cover Balochistan's conflict.
"Reporters do send in the news, but there are no local voices from the interior or any in-depth analysis on the issues," says Aurangzaib Khan, a representative of Intermedia pressure group.
He says that the kind of journalism being practised in the province is "forced". "Reporters are made to report on stories that are not even newsworthy because they are under all kinds of pressure."
He blames three forces responsible for "putting the screws" on journalists - the military, militants and separatists.
Blogging for truth?
But where the news media struggles, blogs flourish. Malik Siraj Akbar says that the world now looks to these blogs for news from the province.
For example, when UNHCR official John Solecki was kidnapped in 2009, the story was first broken by bloggers, he says.
But can blogs provide a holistic, impartial picture of Balochistan? After all, not every blogger is necessarily an objective and independent journalist.
I managed to track down one such blogger, a 29-year-old businessman who wants to remain anonymous for fear of retribution.
"We have to direct attention towards human rights abuses first. We are tortured and killed, as if we are not even human. First human rights must be restored in Balochistan, and then we can talk about women's rights," he says.
While human rights abuses in Balochistan have got scant attention in the rest of Pakistan, it is an issue gaining traction in Washington.
A US Congress Oversight and Investigations Committee recently held a hearing on human rights abuses in the province.
The Pakistani government has reacted strongly to the hearing, describing it as tantamount to "meddling in Pakistan's internal affairs".
But Malik Siraj Akbar says that this hearing is an achievement for Balochistan's bloggers and human rights groups.
"In a sense, this is like Balochistan's mini-Arab Spring, and the credit goes to those bloggers who have risked their lives to bring truth to the fore."
But given that many bloggers are sympathetic towards the Baloch nationalist point of view, Aurangzaib Khan has a pertinent question.
"Who is telling the real story of Balochistan?" he asks.