Maldives crisis: Waheed concession on election schedule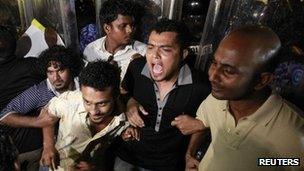 The Maldives' new leader has agreed that elections could take place ahead of schedule in an apparent concession to his ousted predecessor.
Mohamed Waheed told Reuters news agency elections could be brought forward from late 2013 "but the conditions have to be right".
That had been a key demand of former President Mohamed Nasheed, who says he was forced to stand down on 7 February.
A fact-finding Commonwealth delegation arrives in the islands on Friday.
Some countries are still hesitating to recognise the transfer of power, which saw Mr Nasheed resign as protests rocked the capital Male and a mutiny by police and military officers.
He later claimed he was forced to quit at gunpoint - a claim rejected by Mr Waheed, his former vice-president.
Mr Waheed had initially planned to form a national unity government and hold elections as scheduled in late 2013.
He has now told Reuters news agency they could be brought forward - though he did not specify a date.
"If we agree to bring it forward we will have a discussion with all political parties, but the conditions have to be right to ensure there will be free and fair elections," Mr Waheed said on the phone from Male.
"We need to make sure that there is continuation of peace. It is really important to bring back confidence and create rule of law."
Mr Waheed said he was still hoping that members of Mr Nasheed's former cabinet would join his new government, and Mr Nasheed has been asked make a decision on this by Monday.
Most of the cabinet already appointed by President Waheed come from the government of Maumoon Abdul Gayoom, whose 30-year autocratic rule of the Maldives was ended when Mr Nasheed won the country's first democratic elections in 2008.
The Commonwealth ministerial team due to arrive in the country on Friday will investigate the circumstances around Mr Nasheed's resignation.
Mr Nasheed's party had been planning street rallies on the same day, but there are reports they could be called off to avoid a possible repetition of recent violent clashes.