S Korea holds military drills despite North's threats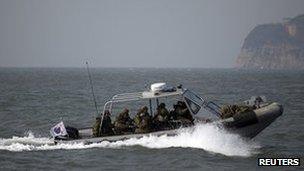 South Korea has held live-fire military drills from islands near disputed sea borders with the North, despite threats of retaliation from Pyongyang.
The drills, which North Korea has called "premeditated military provocation", lasted two hours.
There was no reported action from the North, which warned on Sunday that it would retaliate for any attacks.
The drills took place in an area where four South Koreans were killed in 2010 in a North Korean artillery attack.
Two civilians and two military personnel died in the November attack on Yeonpyeong Island, which lies west of the Korean Peninsula close to the disputed maritime border.
In March 2010, a South Korean warship sank, with the loss of 46 lives, close to another island Baengnyeong.
Pyongyang admitted the attack on Yeonpyeong, saying it was provoked by South Korean military exercises, but has denied any role in the sinking of the warship.
Residents on the islands were asked to go to underground shelters before the drills began.
The aim of the exercise was "to test our weapons at Marine Corps units on the Yellow Sea and also to maintain our military's combat readiness in the area", an official with the Joint Chiefs of Staff (JCS) was quoted by Yonhap as saying.
The North was notified of the exercise - the second this year - at the border truce village of Panmunjom on Sunday, the JCS said.
A North Korean military officer later told the Associated Press news agency that North Koreans will "dedicate their blood to defend their inviolable territory".
The JCS said Pyongyang placed its armed forces on heightened alert during the drills, but had detected no unusual movement from north of the border.
North and South Korea are, technically, still in a state of war. The two countries never signed a peace treaty after an armistice ended their 1950-1953 conflict.
And tensions ran high following the death of North Korean leader Kim Jong-il two months ago.
Mr Kim was succeeded by his youngest son, Kim Jong-un, and political observers are closely watching developments in the cross-border relationship.
US and North Korean officials are due to meet in Beijing later this week to discuss Pyongyang's controversial nuclear programme.
The talks, aimed at restarting negotiations over disarmament, will be the first since the death of Mr Kim in December 2011.