Maldives crisis: Commonwealth urges early elections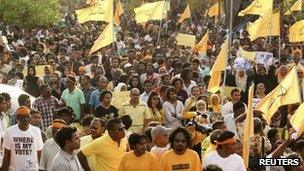 The Commonwealth has urged the Maldives to hold early elections to resolve the country's political crisis.
In a statement, the organisation called on former President Mohamed Nasheed and his successor Mohamed Waheed to begin "an immediate dialogue" to arrange a vote by the end of 2012.
Early polls have been a key demand of the former leader.
Mr Nasheed says he was forced to resign on 7 February by an army "mutiny", a claim denied by Mr Waheed.
The Commonwealth statement also announced that the Maldives was to be suspended from the group's human rights watchdog, the Commonwealth Ministerial Action Group (CMAG).
It had been agreed that "in situations where a member of CMAG was under scrutiny by the Group itself, its CMAG membership should be placed in abeyance", the statement said.
Last week, Mr Waheed said early elections were possible if conditions were "right".
"If we agree to bring it forward we will have a discussion with all political parties, but the conditions have to be right to ensure there will be free and fair elections," Mr Waheed told Reuters.
"We need to make sure that there is continuation of peace. It is really important to bring back confidence and create rule of law."
Mr Waheed had initially planned to form a national unity government and hold elections in late 2013.
Some countries are still hesitating to recognise the transfer of power, which saw Mr Nasheed resign as protests rocked the capital Male and a mutiny by police and military officers.
After hearing from a delegation which visited the islands last week, the Commonwealth decided it was "not possible, in the allotted time, to determine conclusively the constitutionality of the resignation of President Nasheed".
It called for an investigation into the circumstances surrounding Mr Nasheed's resignation, with international participation.
Most of the cabinet already appointed by President Waheed come from the government of Maumoon Abdul Gayoom, whose 30-year autocratic rule of the Maldives was ended when Mr Nasheed won the country's first democratic elections in 2008.
Mr Nasheed quit after security officials joined opposition-led protests over the arrest of a senior judge.
Mr Nasheed had ordered the arrest of criminal court chief judge Abdulla Mohamed, claiming he was blocking human rights and corruption cases against opposition figures.
Critics, however, accuse Mr Nasheed of over-reaching his powers.
An arrest warrant has been issued for Mr Nasheed, although the authorities have yet to enforce it.