Dynamic Afghan mayor details Kabul plans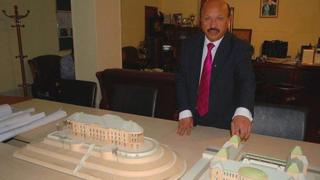 Mohammad Younas Nawandish never wanted to be the mayor of Kabul - after all it is probably one of the toughest mayoral jobs in the world.
One year ago the overcrowded city had no master plan, no properly functioning sewage disposal system and in places was ruled by a powerful land mafia.
"Rebuilding Kabul was an uphill task, more difficult than climbing the treacherous mountains surrounding it," says the 56-year-old mayor as he does just that - scaling a steep stretch of Shirdarwaza mountain, distantly followed by a panting retinue that includes several senior mayorial deputies.
A trained civil engineer, Mr Nawandish says the challenge of running Kabul arose when he stepped down as deputy minister of water and energy in President Hamid Karzai's cabinet.
He wanted to do something different, but did not know exactly what he wanted the challenge to be.
He did not even campaign for the job, even though the mayoral post is supposed to be an elected position.
Because Kabul did not have the resources to hold an election, President Karzai simply appointed him - one of his known confidantes - instead.
Night bird
"Kabul at that time was looking for a mayor," he says. "But no-one was willing to take up the assignment because of its inherent challenges. That's when Mr Karzai called me up.
"I was reluctant at first but relented when I saw the commitment in the president's eye to rebuild this city to its past glory.
"It's been over a year since I took up the job and I have not had the time to reflect on my decision," he says, from his vantage point on the conquered mountain.
Aides say that a typical mayoral day begins at five in the morning and usually ends at about one the following morning. He is a compulsive walker, sometimes covering as much as 10km (six miles) a day.
"I usually leave my home very early. My daughter is asleep then. By the time I return, she is again in bed," he laments.
The mayor is known to be a night bird. He often inspects Kabul's streets at night when residents of the city are fast asleep.
One of his aides recalls an incident last summer when Mr Nawandish was returning home and saw employees of a five-star hotel cutting branches from trees near the hotel compound.
The mayor asked his driver to pull up and reported their activities to Kabul's police chief, Gen Ayub Salangi.
He told the general that his "heart had been cut" by the incident.
"For a moment the police chief [must have] thought that the mayor or someone in his family has been attacked!" the aide recalled.
Mr Nawandish waited at the spot until the police chief arrived and arrested the hotel owner and his staff.
"In three years, we will have Kabul covered with trees," Mr Nawandish says, while ordering his officials to begin planting 30,000 saplings on top of and around Shirdarwaza mountain.
"History shows the mountains of Kabul were green 200 years ago. We are trying to repeat history here."
And the mayor's green credentials do not end there. Under his stewardship, Kabul municipality is also creating 28 parks.
"My aim is to have a dust-free Kabul," the mayor says.
Mr Nawandish has succeeded in generating millions of dollars more revenue for Kabul during his tenure - mainly from retail taxes, business taxes, advertisements and property and business taxes.
''Since I have taken over as a mayor, Kabul municipality has a revenue of $48m or so a year. Before that it was very low,'' the mayor says.
Countering corruption
But critics say that this avid Twitter and Facebook user and the city he runs still have a long way to go.
They say that there is no master plan to provide asphalt roads, clean water and sanitation, electricity and public transport.
Mr Nawandish admits there are shortcomings, but insists he is working all the time towards improvements and that he has learned a lot through regular visits to Washington, Moscow and Istanbul.
One of the mayor's top objectives now is his ongoing campaign to remove illegal shops, buildings and illegally-parked carts from the city's streets and pavements.
Critics have accused the man dubbed the "Builder of Kabul" of failing to prevent the construction of several high-rise buildings - some of which were used by insurgents in a recent attack on the US embassy. The mayor argues that they were all built before he came to power.
His Facebook account lists tackling administrative corruption as another of his top priorities.
But it has to be said that his name is not entirely free of controversy.
The mayor has been accused of favouritism and of making illegal financial gains.
"I do not deny that the Kabul mayor used to be a money-making position," he says. "But that was before I took over. During my time as mayor, more roads have been paved than ever before, Kabul is now far cleaner and the city's revenues are rising."
Why then do the allegations against him refuse to go away?
"If you try to do some good, you make enemies," Mr Nawandish says.
He says that several people within the government and some in the media are spreading rumours about him and his zero tolerance of corruption.
"This has hurt the vested interests of many people," the mayor says.
"Things have changed and people's perception will change too, but it will take some time."
Back in his office, Mr Nawandish takes out a roll of dollar bills from his drawer.
"When people come to me and say 'so-and-so in your office is demanding a bribe', I hand them currency notes from this roll. All of them are marked. It has helped us arrest several corrupt officials," he says.
Not that it always works.
"Some people are smarter than they appear. One person took $1,700 from me saying he would use it to trap a corrupt official in my office. He never returned."