Crew members of New Zealand reef ship plead guilty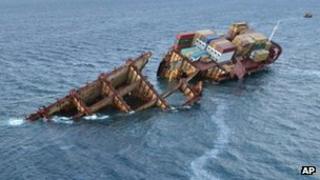 The captain and navigating officer of a cargo ship which ploughed into a reef off New Zealand last October have pleaded guilty to a series of charges.
The charges include "operating a vessel in a manner causing unnecessary danger or risk" and attempting to pervert the course of justice.
The two men cannot be named until they are sentenced in May.
The Rena has leaked large amounts of fuel in what is New Zealand's worst ever maritime environmental disaster.
Some of the charges are punishable by up to seven years in prison.
Both men also face a charge relating to the "discharge of harmful substances from ships or offshore installations". The captain pleaded guilty, but the navigating officer did not enter a plea on this charge.
If necessary, a further hearing will be held in May to hear arguments on this particular charge.
The Rena struck the well-marked Astrolabe Reef off the North Island resort area of Tauranga on 5 October last year.
The ship broke in two in January when most of the stern of the Greek-owned Rena slipped off the reef and became submerged.
Salvage operations on the wreck are continuing.
Hundreds of tonnes of fuel have leaked since the Rena ran aground, killing thousands of seabirds.