US 'ties North Korea food aid to nuclear progress'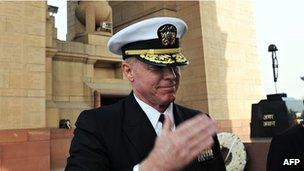 A senior US military official has said that the issue of food aid for North Korea is now linked to political conditions.
Admiral Robert Willard, commander of the US Pacific Fleet, made the comments to a Senate committee on Tuesday.
He said conditions being discussed for food aid resumption included talks on ending North Korea's nuclear programme.
This contradicts official US policy, where the nuclear programme is separate from the provision of food aid.
North Korea relies on international aid to feed its people.
"There are conditions that are going along with the negotiations with regard to the extent of food aid," Adm Willard told the US Senate Armed Forces Committee.
He said "preconditions" for assistance "now include discussions of cessation of nuclearisation and ballistic missile testing and the allowance of IAEA perhaps back into Yongbyon [reactor]".
In 2009, International Atomic Energy Agency inspectors were asked to leave Yongbyon as denuclearisation talks between North Korea and its dialogue partners - the US, China, Russia, South Korea and Japan - broke down.
It is not clear whether Adm Willard's comments reflected a shift in US policy, the BBC's Lucy Williamson in Seoul says. The US embassy in Seoul told the BBC that the official position on food aid remained unchanged: that it is determined only by humanitarian need and the ability to monitor delivery.
Adm Willard also told the committee that North Korea's new leader, Kim Jong-un, seemed likely to "continue to pursue his father's coercive strategy", which includes nuclear weapons.
He added that the leadership succession in North Korea "appears to be on course", with no sign of change from previous leaders.
The issues of US food aid resumption and North Korea's nuclear programme were raised in talks between officials from the two countries in Beijing last week, the first since the death of North Korean leader Kim Jong-il in December.
The US Department of State maintains that a decision on food aid will be based only on the level of need in North Korea, coupled with the freedom to monitor delivery.
Part of the ongoing discussions between the two countries is an agreement last year to restart the search for the remains of an estimated 5,500 US service personnel missing from the Korean War of 1950-53.
Joint search operations were suspended seven years ago, but are due to formally restart on 1 March.
A US ship carrying equipment to help with the search arrived in a North Korean port on Tuesday, Adm Willard said.