North Korea: The denuclearisation dance resumes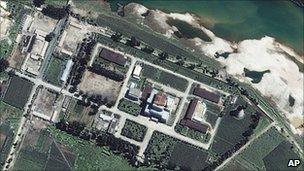 North Korea loves to spring surprises. More unusual is for its US foe to play along.
Just a few days ago, both sides were blandly non-committal about the outcome of bilateral talks - their third in recent months - held in Beijing on 23-24 February.
This calculated coyness, it now seems, concealed quite a breakthrough. Presumably both sides needed a few more days to fine-tune the small print.
So Wednesday's simultaneous announcement from Washington and Pyongyang was both unexpected, and glad tidings.
The North Korean nuclear issue, stalemated for the past three years, is now back in play again - not before time.
On the face of it, North Korea has conceded quite a lot. First up, it has agreed to moratoriums on testing both nuclear weapons and long-range missiles.
This is welcome news. Many feared that "great successor" Kim Jong-un might mark the mid-April centenary of his late grandfather Kim Il-sung, North Korea's founder, by testing a very large firework - to show his mettle and keep the world on its toes. That will not now happen.
Secondly, Pyongyang has apparently agreed to suspend not just tests but all nuclear activities - and to allow the UN International Atomic Energy Agency's (IAEA) inspectors, whom it kicked out in April 2009, back in to verify compliance at its Yongbyon nuclear site.
There are two parts to this, one of which breaks new ground. In November 2010 a US team of scientists visited Yongbyon and found a mixed picture.
Facilities related to the old plutonium-based programme appeared disused. On the other hand, they were shown a brand-new facility for enriching uranium (HEU). This second path to the bomb had long been suspected, but no one imagined it would be so far advanced already.
If this plant too is really to be subject to a moratorium and IAEA inspection, then this is real progress. By contrast, most of the rest simply takes us back to where we have been before.
North Korea's nuclear issue, a concern now for over 20 years, has long been a game of cat and mouse - or snakes and ladders. This latest ladder gives hope that the six party talks - both Koreas, the US, China, Japan and Russia - on the nuclear issue might resume before long.
Two cheers for that, at best. The original six party talks ran, or rather crawled, from 2003 to 2008. It remains unclear if North Korea was ever serious - or just playing for time while working on HEU.
Although the return six party talks may not be much to cheer about, it does appear that North Korea has conceded a lot for not very much in return. 240,000 tons of US food aid is not a huge deal. And if US Secretary of State Hillary Clinton is correct in saying that the North has agreed to "aggressive" monitoring of that aid's distribution, then that is progress too.
Such monitoring has often been a sticking point in the past, amid fears that food aid might be diverted to the Northern elite - or its military - rather than the needy.
The timing is intriguing too. Before this news North Korea was all bellicosity and bluster.
As recently as 25 February, in response to routine ongoing US - South Korea war games, it warned that "we have war means more powerful than the US nukes" and threatened a "sacred war" to "make a clean sweep of the Lee group" - meaning the current South Korean government of President Lee Myung-bak, which Pyongyang insults daily.
South Korea holds parliamentary elections on 11 April. Lee's conservative party is expected to lose ground to the centre-left opposition, but a small hint of peace from the North will do him no harm at all. Lee can hardly have expected such a gift.
Perhaps Kim Jong-un also wants to remind China - North Korea's main trade partner and by far the most influential power in Pyongyang - that he does have other options.
On 28 February, for example, a US Navy ship docked in Nampo, the port for Pyongyang, with equipment for joint searches for remains of US soldiers missing from the 1950-1953 Korean War. China may look askance at the US and North Korean militaries working together like this.
So we are all left guessing and the proof of the pudding, as always, will be in the eating. But this leap year surprise from Pyongyang has to be good news. How good, only time will tell.