US court dismisses lawsuit against Sri Lanka president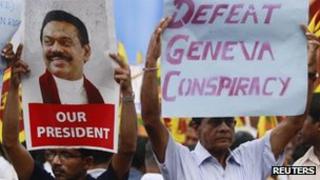 A US court has dismissed a lawsuit against the Sri Lankan president over killings allegedly committed by the army during the civil war.
The judge said that President Mahinda Rajapaksa, as a foreign head of state, enjoyed immunity.
"The court does not take this step lightly,'' she ruled. "The plaintiffs' complaint contains shocking allegations of human rights abuses."
The worst of the abuses were alleged to have taken place at the end of the war.
The Sri Lankan embassy in Washington said the government "vehemently denied violating human rights laws".
The army defeated Tamil Tiger rebels in 2009 to end more than 25 years of bloody civil war.
Naval firing
District Judge Colleen Kollar-Kotelly said that she had to dismiss the suit against President Rajapaksa because the Obama administration had said he was immune from litigation as a foreign head of state.
In her ruling she said that the dismissal was in "no way a reflection of the merits of plaintiffs' claims or defendant's defences".
"Rather, two centuries of case law and basic constitutional and statutory principles prevent this court from allowing the plaintiffs' complaint to move forward at this time.''
The plaintiffs included families of students shot dead in the town of Trincomalee six years ago, and relatives of aid workers for a French organisation killed near there in August 2006.
No-one has been prosecuted over the two sets of killings.
The plaintiffs say they were killed by the security forces under Mr Rajapaksa's control but the government has sought to implicate the Tamil Tigers.
Also taking part in the lawsuit were relatives of a family killed as the military crushed the Tamil Tigers in 2009.
They allege the four people died in naval firing on displaced civilians in the government-declared no-fire zone.
Last month a US court rejected another civil case brought against a former top military commander, Shavendra Silva, saying he too had diplomatic immunity. He is now the Sri Lankan deputy ambassador to the UN.