Pakistan defends Iran gas pipeline deal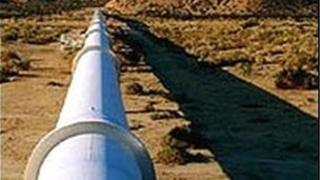 Pakistan will pursue a gas pipeline deal with Iran despite international pressure, Foreign Minister Hina Rabbani Khar has said.
She was addressing a media briefing after US Secretary of State Hillary Clinton warned the deal could invoke US sanctions.
Pakistan says the multi-billion dollar deal is crucial for addressing the country's energy crisis.
Under the 2010 deal, Iran would supply Pakistan with natural gas from 2014.
Ms Khar said Pakistan was talking to Iran about some "important projects, such as the gas pipeline, the electricity transmission projects and upgrading trade partnership".
But she added: "All these projects are in Pakistan's national interest and will be pursued and completed irrespective of any extraneous considerations.
"All our friends are encouraged to understand the real energy crisis in Pakistan. We cannot afford to be selective [about] where we receive our energy supplies from."
She added that Pakistan sought a relationship with the US based on mutual respect.
On Wednesday, Mrs Clinton warned that such a project could invoke US sanctions and said it would undermine Pakistan's "already shaky" economy.
"As we are ratcheting up pressure on Iran, it seems somewhat inexplicable that Pakistan would be trying to negotiate a pipeline," she said during a congressional debate.
The BBC's Aleem Maqbool in Islamabad says that this is just one sign that Pakistan is trying to assert itself much more when it comes to its relationship with Washington.