Bangkok's Don Muang airport reopens after floods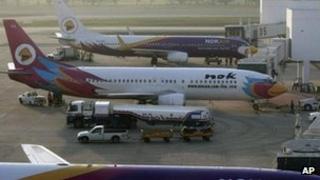 Bangkok's Don Muang airport has reopened to traffic after it was inundated by last year's devastating floods.
The first passenger flight took off from the airport bound for the northern city of Udon Thani early on Tuesday.
Bangkok's second airport and domestic terminal, Don Muang has been closed for four months due to the floods.
Prime Minister Yingluck Shinawatra said on Monday that plans were in place to prevent future flooding.
Don Muang airport is used by private planes, budget airlines and freight operators.
The floods - which killed some 800 people nationwide - forced the flights to transfer to the unaffected Suvarnabhumi international airport, Bangkok's main air hub.
Nearly 1.6bn baht ($52m; £33m) was spent to restore the airport, which was at one point used as a temporary base for the government's flood relief operations.
The airport operator says it expects to handle some 1.4m passengers this year.