Papua New Guinea's top judge charged with obstruction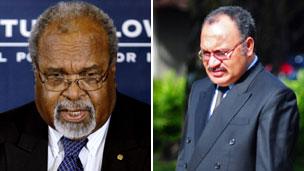 Papua New Guinea's chief justice, Sir Salamo Injia, has been charged with obstructing a police investigation into his management of the court.
He was taken into police custody on Tuesday morning in the capital, Port Moresby, and later released on bail.
His arrest comes amid an ongoing tussle for the prime minister's job between Peter O'Neill and Sir Michael Somare.
Sir Salamo presided over a court ruling that ordered the latter reinstated.
The top judge, who is due in court on Wednesday, did not respond to reporters' questions as he left the police station, Australian media reported.
Mr O'Neill and Sir Michael have been wrangling over the leadership role for more than six months.
Sir Michael left Papua New Guinea in March 2011 to receive medical treatment. In August, MPs declared the position of prime minister vacant and elected Mr O'Neill as leader by 70 votes to 24.
But a Supreme Court ruling in December 2011 stated that parliament had acted illegally and ordered that Sir Michael be restored to office.
Mr O'Neill, who is backed by the civil service and effectively running the country, refused to step down.
In January a retired colonel staged a failed mutiny with a group of soldiers, taking the chief of defence forces captive and demanding that Sir Michael be reinstated.