Saudi official shot dead in Bangladesh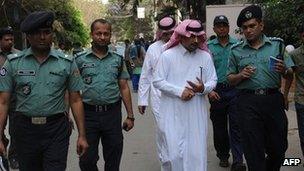 A Saudi Arabian official has been shot dead in the Bangladeshi capital, Dhaka, police say.
They found Khalaf Al Ali's body in the city's upmarket diplomatic district of Gulshan. He died in hospital from a gunshot wound to the chest hours later.
Police are currently investigating. It remains unclear who shot the man, aged 45, and what the motive was.
While Saudi Arabia is a major donor to Bangladesh, the two have had a strained relationship recently, analysts say.
Police found the body of the man near where he lived in Gulshan district, which is also close to Saudi Arabia's embassy in Dhaka.
"He was found with a gunshot wound. Then he was taken to a nearby hospital. But he died a few hours later. We have stepped up security in the area," Lutful Kabir a senior police officer told the BBC's Ethirajan Anbarasan in Dhaka.
Mr Ali worked in the administrative section of Saudi Arabia's embassy in Dhaka, Bangladesh's foreign ministry said. Earlier reports identified him as a diplomat.
The attack has shocked local residents. There have been a number of muggings in the area in recent months, a number of which targeted foreigners, our correspondent says.
The Saudi embassy will issue a statement later, the AP news agency reports. But private news agency United News of Bangladesh quoted the ambassador saying he hopes "the government will catch the killers".
Bangladesh's minister for home affairs says the authorities have ordered a thorough investigation.
Saudi Arabia and Bangladesh have been allies. But recent issues like the public beheading of eight Bangladesh workers in Riyadh for murder last year have caused friction.
It is estimated that more than two million Bangladeshis work in Saudi Arabia.